Hello!
Whats new?
TS4: Sydney by Lorry
TS4: Bowls for Matt by Anidup
TS4: 1 Bloom Terrace by Lorry
TS4: Royal wedding souvenirs by Ivy Rose
TS4: Painting collection by Anidup
TS4: Ayanna by Tilly Tiger
TS4: Provence painting collection by Anidup
TS4: Bradford way by Lorry
TS4: Girly wallpaper by TaTschu
TS4: Lavender bedroom by IvyRose
TS4: Bunnies and chicks paintings by Ivyrose
TS4: Painting collection by Anidup
TS4: In the garden - Ivy by Tilly
TS4: Japanese House by Lovias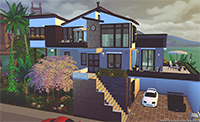 TS4: French dining curtains by Anidup
TS4: Shoreham Wharf by Tilly Tiger
Top posting users this month
Crissi

Administrator


Posts

:

3805




Thanks

:

767




Total Awards

:

6



Welcome to Bloom!
The guidelines below are the primary rules of our forum, please take the time to review them.
They are designed to make your stay here as comfortable as possible for everyone, and all members agree to these rules by registering on our forum. Ignoring or breaking these rules will lead to posts being removed and possibly your membership account deleted.
Play nice
We don't want any bad atmospheres here at the forum. We are a nice and relaxing place to visit, and friendly and respectful. Bickering, arguments, profanity and rudeness will not be tolerated under any circumstances. Nuisance members will also be banned if they are found to be causing trouble for any of our members or staff. All staff work to ensure this, first and foremost. This is so our members can enjoy their time here and feel welcome.
We are an English language forum. Our members are from many different nationalities. Please use a translator and post in
English only please. Posts not in English will be removed by Moderators.



NO SPAMMING!
You may advertise your own site by placing a link in your signature.
Blatant spamming will be removed  and a warning issued. Any "non-sim" spam will be cause an immediate ban.
It is against the rules to recruit members for your own forum. Forum owners or members of other forums are not to advertise their contests here or any activities on their own forum. You may add your site to The List section and post updates in our updates thread (for cc only).
Family friendly
We are a family friendly site and have young people among our members. We ask that you keep adult debate or content, sexual language and adult images away from the forum. No Sims nudity please. Porn, political or hate material or violence is not something we tolerate and it will lead to an immediate ban. Please keep your content appropriate.
No bad language
such as swearing, racism or being in-polite in general. Please show respect for other members on our forum.
This is a friendly forum!
No hot-linking
Images must be uploaded to an image hosting site and the url used.
Maximum image size is 800 x 800px  in width
(Pictures exceeding that limit must be resized and replaced)
Violation of rules
Please use the "Report to moderator" function within threads, if you feel that any comments posted on the forum have violated any of the guidelines shown here. Members should not moderate other members themselves, but refer the situation to Admin or moderators.
Guests
As a guest you are welcome to our forum. Guests are not allowed to post comments or make new threads. If you would like to do so then please register and become a member. Guests only see a small part of our forum and download areas are open to members only.
Becoming a Member
If you decide you would like to become a member then please register. It is free and you will be able to view parts of the forum which are not available to guests. You will be able to download, upload your own creations to the members section of the forum, open an album and leave comments.
Please note: This is a community forum. Inactive members will eventually have their accounts deleted.
New members can NOT post links for the first 7 days of their memberships. Members will need 10 posts on our forum to access the downloads area.
Please be polite and do not spam the forum to reach your post count. This will lead to an immediate ban.

Duplicate accounts will NOT be accepted nor will accounts with similar usernames. This means your request to join the forum may not be accepted, or one of the accounts will be removed.
If you are unsure if your account request has registered properly, please PM Admin, so it can be checked for you.
Uploads
You are encouraged to upload gifts to our members downloads section. Custom content that is included, (lots, Sims and recolors)please check with the creator that you have permission to do so and appropriate credit given where possible.
Your profile
You can customize your profile by changing your Avatar and adding a signature.
Avatars must be 110 x 110 px maximum.
Signatures must be 300 x 300 px maximum.
If you would like a siggi or avatar, you can upload your own, or request one in the graphics section. Please dont use flashing/highly animated siggis. They are too distracting in the forum posts.
You can change your avatar and siggi in your profile section.
Site issues
If something on this site is not working as it should, or broken links not working, please report it to an Admin or Moderator, so it can be put right.
Before you post on the forum:

Please make sure you read through the rules.
Please DO NOT use all capital letters.
Make sure your posts are appropriate and you are "playing nicely"
Use English only, or a translator.
Please DO NOT double post in a thread to reach your post counts. A moderator will remove your posts and could lead to a ban.Forum rules are final.
The staff at Cherryblossom Sims reserve the right to remove, edit, move or close any thread with or without reason or notice. Polite inquiries will be listened to via PM. Any form of harassment or rudeness will not be tolerated.
Thank you for taking the time to read this - we do hope you will enjoy your stay at the forum.
Cherryblossom Sims Team.
Last edited by tilly on Wed Mar 28, 2018 6:51 pm; edited 11 times in total (Reason for editing : Changing picture sizes.)
Create an account or log in to leave a reply
You need to be a member in order to leave a reply.
Log in
Already have an account? No problem, log in here.
Log in
---
Permissions in this forum:
You
cannot
reply to topics in this forum