Hello!
Whats new?
TS4: Punk rock princess walls by Velvetkiss
TS4: Opulence bed by Freeasabird
TS4: Kitchen herb paintings by Freeasabird
TS4: Art deco shelves by Freeasabird
TS4: Designer perfumes by Freeasabird
TS4: Designer make up palettes by Freeasabird
TS4: Champagne bucket by Freeasabird
TS4: Rose vase by Freeasabird
TS4: Shaped Duet by Szanne7000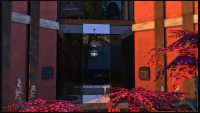 TS4: Greenhills House by Mireluk
TS4: Paris fleur art prints by Velvetkiss
TS4: Rock and roller art prints by Velvetkiss
TS4: Dreamscape wall stickers by Velvetkiss
TS3: A gift for Anita by Poppy100

TS4: Brick Walls by TatSchu
TS4: Rustic country walls by Tilly
TS3: Room set by Poppy100

TS4: White swan paintings by Tilly
TS3: 125 Wood St by Mireluk
TS3: Gift for Chicklet by Poppy100

TS4: Heritage foundations by Tilly
TS4: Chancery paving by Tilly
TS4: Boho rugs by TaTschu
TS4: Train station by Lovias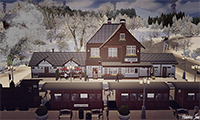 TS3: Deco walls by Poppy100
Top posting users this month
anidup

Administrator


Posts

:

4663




Thanks

:

2730




Awards

:

:dogsniff: Please post your entries here.  :dogsniff:
Tahoe

Senior Member


Posts

:

702




Thanks

:

215




Total Awards

:

3



Here is my entry (TS 2)
I have made room for a girl of 7 years of age who is very "girly" where the colors pink and white. It is done considering that the furniture can be used for many years, the table with dolls can be used later as a table by the window sill when you want a snack with friends or as a table to have a TV on. The bench of the dolls can later use as, for example, shoe rack, bureau can turn back and hide a lot of clutter.
(I'm never built anything for a color palette so I hope I understood everything right.)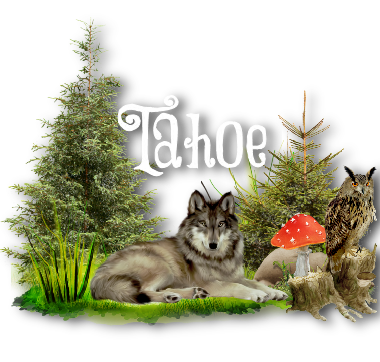 Thank you Crissi for the beautiful signature
abutzlaff

Newbie


Posts

:

4




Thanks

:

0



My entry is for a pair of sisters, 2 year old, Lily, and 14 year old, Lindsey. Their parents are divorcing and their mom has decided to move back in with her parents until she can get things together and get a place of their own.  Grandma and Grandpa are happy to redo a room for their granddaughters, adding a touch of class with kid style.
[center][/cent
er]
jordana

Junior Member


Posts

:

370




Thanks

:

228




Total Awards

:

2



Kelly's Parents are moving back to the United Kingdom, so Kelly 17 is staying with her greandparents for the remainder of her senior year of High school. Her grandparents closed in the back porch to give her plenty of her own space.
Just for fun entry
IvyRose

Resident Artist


Posts

:

517




Thanks

:

427



Here is my TS4 entry.
7 year old Vita is coming to stay whilst her mum goes away on business. Mum is going to be away for six months so Vita is staying with her nanny so that she can still be near her friends and stay at the same school. Nanny is very excited and has decorated the spare room using Vita's favourite colours of turquoise and terracotta. Nanny has scoured the second hand shops, boot fairs and raided both her attic and that of her friends armed with several House Beautiful magazines and some of Vita's old toys she created the room below.
Last edited by IvyRose on Mon Mar 28, 2016 8:06 am; edited 1 time in total (Reason for editing : Resized pictures)
GingerTea

Newbie


Posts

:

3




Thanks

:

0



This is my TS2 entry.
This is a tiny attic room for my sim kidlet, Samantha Mornington, who is soon to stay with her grandparents at Mountain Farm.
Grandpa Silas installed a heater (Mountain Farm is located in my oft-snowy Silence Falls hood) and managed to squeeze in a small bathroom.
Meanwhile Grandma Violet collected some furniture from around the farmhouse and gave it all a fresh coat of while paint. The only new pieces are the bedside table from IKEA and a cane hanging chair she found in a local store. She included a colourful paper hanging light and framed the pictures herself before making sure there was an extra blanket on the bed and some rugs on the bare floorboards.
While emptying the attic of its old boxes, she found plenty of worn toys and even an ant farm that once belonged to her own children, now grown, and couldn't resist giving them another chance to be loved. She also popped in a pair of gumboots, since Samantha loves to help Silas in the greenhouse, where he grows the organic strawberries Mountain Farm is famous for.
She was about the move the old art easel before these pictures were taken, but disappeared to make herself a cup of tea.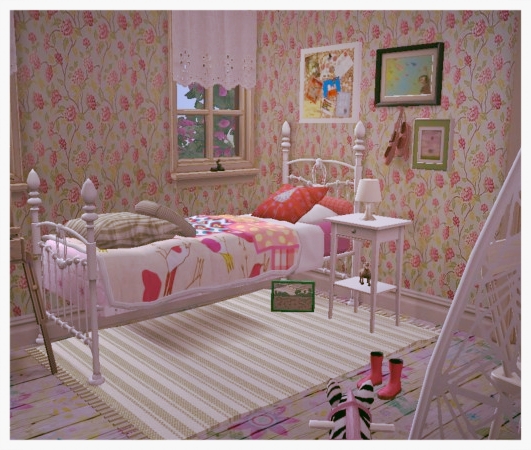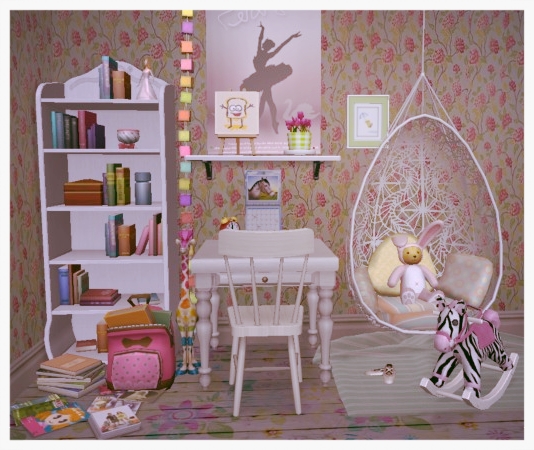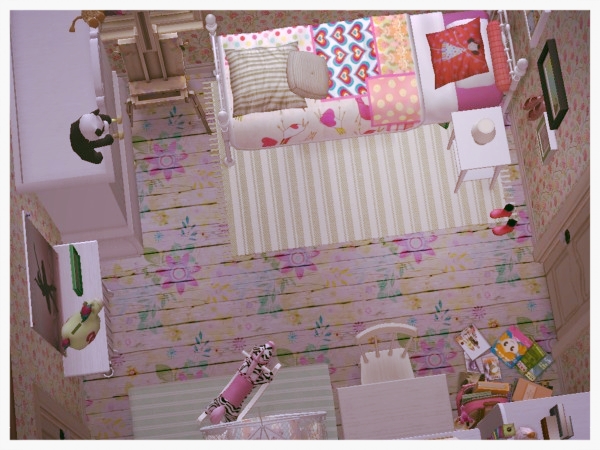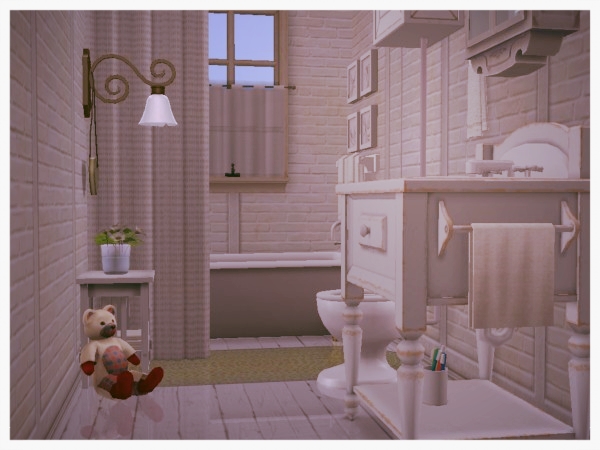 tilly

Forum Boss


Posts

:

2982




Thanks

:

1146




Total Awards

:

5




Awards

:


Thank you for all of your entries!
This contest is now closed and judging will take place.
Winners will be announced shortly!
Good luck everyone!
Create an account or log in to leave a reply
You need to be a member in order to leave a reply.
Log in
Already have an account? No problem, log in here.
Log in
---
Permissions in this forum:
You
cannot
reply to topics in this forum