Hello!
Whats new?
TS4: Sydney by Lorry
TS4: Bowls for Matt by Anidup
TS4: 1 Bloom Terrace by Lorry
TS4: Royal wedding souvenirs by Ivy Rose
TS4: Painting collection by Anidup
TS4: Ayanna by Tilly Tiger
TS4: Provence painting collection by Anidup
TS4: Bradford way by Lorry
TS4: Girly wallpaper by TaTschu
TS4: Lavender bedroom by IvyRose
TS4: Bunnies and chicks paintings by Ivyrose
TS4: Painting collection by Anidup
TS4: In the garden - Ivy by Tilly
TS4: Japanese House by Lovias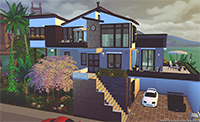 TS4: French dining curtains by Anidup
TS4: Shoreham Wharf by Tilly Tiger
Top posting users this month
Avalanche

Junior Member


Posts

:

458




Thanks

:

101



Hi
,
I'm confused about how to use the new S4S Harmony. I wanted to make a T-Shirt, but I'm not satisfied. As always I have major issues with the shadows/folds, whatever. I was wondering, if I did export the right file.

I exported Diffuse and Shadow and got a T-Shirt, but it looked strange at the edge, especially at the neck.
Did I use the right files? Or is it "normal"?
anidup

Administrator


Posts

:

5337




Thanks

:

3293




Awards

:

Have you read through
this
tutorial?
I was playing around with recoloring toddler clothes as well and found the meshes so difficult to work with!
But the normal map should only be changed if you took away some parts of the original mesh, like a pocket or other adornment. If you only recolour the garment as it is, you only change the diffuse.
I found that the shadow file helps you to recognize the ends of the garment.
But even though I was very careful I always ended up with "bleeding" onto the skin of the model.
Avalanche

Junior Member


Posts

:

458




Thanks

:

101



No I didn't. Well I did, but it's not up to date, so it doesn't help. I tried to put the "normal" file as a second layer over the "diffuse" and the texture, but I really don't know, if I have to do this, or if the shadows/details will show anyway.
anidup

Administrator


Posts

:

5337




Thanks

:

3293




Awards

:

That is true, it is quite outdated,and I did not have the energy to read through all the questions by other creators.
May be Conny will be of more help to you.
szanne7000

Tech Guru


Posts

:

5530




Thanks

:

798




Awards

:

Well, I cannot help with this, heheheheeh
If you need to run batch fixes or merge files, though, I'm your human!  :D
xmiramira has several recoloring tutorials available (she's on Tumblr and YouTube and here:
http://www.xmiramira.com/
She has an interesting style of instruction, but this is some very basic instruction. I found it and put it aside when I decided I'd like to try my hand at some simple recolors (I'll leave all the more advanced stuff up to you!).
This is a way to not use s4s for the recoloring, but rather the importing/exporting of package files... It might be helpful :D
She uses s4s and other apps together... If I recall correctly, she uses a separate graphics program to do recolors so that she does not lose the texture portion of clothing cc... look at this YouTube video:
https://www.youtube.com/watch?v=me5T-2F5j0E&t=2563s
Create an account or log in to leave a reply
You need to be a member in order to leave a reply.
Log in
Already have an account? No problem, log in here.
Log in
---
Permissions in this forum:
You
cannot
reply to topics in this forum