Hello!
Whats new?
TS4: Sydney by Lorry
TS4: Bowls for Matt by Anidup
TS4: 1 Bloom Terrace by Lorry
TS4: Royal wedding souvenirs by Ivy Rose
TS4: Painting collection by Anidup
TS4: Ayanna by Tilly Tiger
TS4: Provence painting collection by Anidup
TS4: Bradford way by Lorry
TS4: Girly wallpaper by TaTschu
TS4: Lavender bedroom by IvyRose
TS4: Bunnies and chicks paintings by Ivyrose
TS4: Painting collection by Anidup
TS4: In the garden - Ivy by Tilly
TS4: Japanese House by Lovias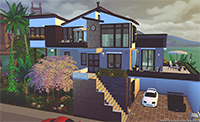 TS4: French dining curtains by Anidup
TS4: Shoreham Wharf by Tilly Tiger
Top posting users this month
szanne7000

Tech Guru


Posts

:

5795




Thanks

:

880




Awards

:

Here is an essay I did for a Psychology course back in 2004. It is written in the form of a short story.
You might like it.
(I've included the references, in case anyone is interested)
Professor Direction: In the distant future, the world is ruled by psychologists. In order to make psychologists indispensable, the Psychologist Queen has decreed that all people will be required to develop a psychopathology. With this in mind, please respond to the following questions:
You are allowed to select the psychopathology that you will develop. What psychopathology would you select for yourself? Why have you chosen this pathology? How would this pathology impact you and your family? You are also allowed to select the psychopathology of your child. What psychopathology would you NOT want your child to be afflicted with? Why have you chosen this pathology? What makes this psychopathology worse than the others? How would this pathology impact you and your family?
~~~~~~~~~~~~~
Sanna quickened her pace down the steep, winding path. She could feel the oncoming panic attack as if it were an onrushing train: huge, looming, black, bearing down on her mind and body. Her breath became like the fits and spurts of a dying combustion engine. Sanna knew that this time her heart was going to claw its pounding way right through her chest wall. She almost welcomed the thought of unending nothingness. She scrubbed at the tears blurring her vision as she reached out to steady her descent.
The sun was nothing but a halo of lights shooting up from the Yerkes Mountains. To the east where the Freudian Slip Faults crisscrossed each other like a mechanical wiring engineer's worst nightmare, the sky was already a deep indigo which would quickly transition through darkest purple to coalsack black. Due to its position in the heavens, there were no stars to give the illusion of brightness in that direction. Psyche orbited a dual star system in some of the furthest outreaches of the human Diaspora. The Coalsack neighborhood was chosen by Queen Eldien because of is lack of neighbors, yet proximity to some of the greatest theorized natural resources in the entire galaxy. Eldien was a brilliant scientist and clinician with far reaching ideas about how irreplaceable psychology was to humanity. Ergo, Psyche and a planet full of, mostly, like-minded inhabitants.
These fleeting thoughts whimpered their way to the surface of Sanna's mind as she broke into a full run at the bottom of the path. It looked to be a dead heat for the last rays of the sun and the slamming of her cottage door. She felt like a landed fish as she gasped for breath, struggling to somehow get some air into her lungs. Her vision had started to gray and the sweat pouring off of her body had nothing to do with her pell-mell sprint down the hill path. Sanna knew, she knew, that she was going to die if the inky blackness of night surrounded her, engulfed her, and then swallowed her whole. She was momentarily grateful for the therapeutic interventions that now kept her surging towards her goal of a door to ward off the oncoming night. Despite the tears choking her already labored breathing, Sanna reflected that this level of confrontation with her worst fear wasn't what she'd had in mind when she'd finally been allowed to begin treatment.
As she snatched at the handle of her door, the last ruby sparkle of sunlight extinguished itself behind her. Sanna sank into her vestibule and simply shook, while the cold sweat and ragged breathing intensified. She knew it was dark outside. Intellectually, she knew the dark could not hurt her; but Psyche's dual suns' disappearance rendered her little village more eerie and dark than a Scott Mutter photograph. There was no light that was not provided by the villagers—small, lonely flames that flickered haphazardly in the utter blackness, like the yellow diamonds that glittered along the edges of Skinner's Lake. It wasn't enough for Sanna's terrified mind. She couldn't make the flames bigger or brighter through any visual imagery techniques her battered mind could dredge up.
Micah found Sanna's collapsed form about twenty minutes later when he arrived home from work (gathering those same yellow diamonds for export to planets outside the Coalsack). He cursed as he picked up her still shaking body and carried her to the heaping mounds of pillows in the living area. Doda had long since finished her task of lighting the hundreds of candles that flickered and burned in the room. They lit the inside of the cottage like high noon at the equator, but the intensity of the light could not penetrate the wall of terror built by Sanna's mind. Micah knew that it would be at least another hour before Sanna returned to herself. This time Micah simply sighed while he held her and spoke calming words into her ear. They had lived with this pathology for a decade now, but hadn't a clue it would get this bad when they discussed their choices of psychopathology per the Queen's decree.
A specific phobia was deemed the easiest of options because there was treatment that could stop the phobic response short. But they had forgotten Eldien's underlying goal of keeping humanity, at least on Psyche, under the tight control of clinical psychologists and therapists. There would be no easy cure for this disorder. Eldien had decided that all inhabitants must run a minimum course of ten years before she would allow a therapeutic regimen to combat any pathology. At least she had mandated mental retardation not be part of anyone's choices. As he ran these traitorous thoughts through his mind, he saw Doda come in, carrying more of the creamy white candles preferred by Sanna.
Doda had a routine she used to ensure that it was always daytime light in this room. She started at the far corner of by the heavily curtained bay window where the striking array of wrought iron candlesticks vied with each other for prominence. The curtains were made from a rich, butter colored fabric that contributed to the lightening of the space while simultaneously blocking out the night sky that so haunted Sanna. Doda reached towards a one inch stub and, without extinguishing its flame, carefully pulled it from its setting. She lit a fresh candle from the old and placed the new candle just as carefully into the holder. Only then did she turn to the small remains of candle and blowing gently, smother the flame. Doda had lived with her Obsessive-Compulsive Disorder for over 15 years—therapy was only just now allowing Doda to focus her thoughts and actions into something productive and fulfilling. Micah followed her steps through the living room as Doda searched for any candles nearing their ends. Sanna used to perform this same vigil as Doda danced her rounds, lifting, lighting, placing, and blowing. Micah used to think Sanna was becoming too obsessed with the procedure and had argued with her about it for years. Now, he did it without shame or coaxing. Micah watched as Doda went to the next grouping of candelabra, past the row of single towers made from brass. This group had been dubbed the Crystalline Flames Pyramid as it consisted of 70 or so crystal candleholders, each holding multiple fat, creamy candles. Doda was truly a gifted light maintainer as not one speck of wax dropped to mar the gleaming surface of the multi-faceted crystal. They had hired her about seven years ago, due to the severity of Sanna's disorder. Micah moved his eyes along Doda's path and gripped his fists as he realized there were even fewer of the sparse-limbed, spare-leaved plants left in the room. The bursting foliage of the past had departed, leaving nothing to bring forth thoughts of shadows or scary forests where the sun never traveled.
Sanna's disorder had not stayed focused on the specific phobia to the dark. It had grown like wild vines, twining within itself new tendrils of fear, shadows, forests, night, even the color black itself. As a result, the only shadows in this room existed in Sanna's mind. Micah turned back to her as he felt her body begin to relax and breath more slowly. He was confused and hurt and terrified at the path Sanna's phobia had detoured onto. His own phobia of spiders had remained just that. He didn't even tremble at that thought, testimony to the effectiveness of Eldien's tireless staff of psychologists. What was worse, their child, Chamna, would be of Choosing Age next week. Queen Eldien had decided that everyone, even children, would experience a pathological disorder. He grieved furiously inside as he thought of his daughter's upcoming birthday and held his wife's calming body. Chamna would turn one and the thought filled him with dread instead of joy. He and Sanna had been drilling the nets for information on all types of psychopathology and, while they hadn't determined what would be the easiest sentence to land on their daughter (especially since Sanna's choice had backfired so extremely), they had decided what would be the worst. It was called Childhood Disintegrative Disorder (CDD) and not only had they read the research and columns, they had viewed the results for themselves during a tour of the regional Child Psychiatric Hospital. The Queen encouraged such visits by her constituency because of her belief that this would show off her outstanding clinical teams.
In Micah's opinion, the CDD ward should be only used during prisoner interrogations to reach recalcitrant individuals. The concept that a parent could sentence a child to this horrible disorder was beyond Micah and Sanna's comprehension. He looked down at her and found Sanna resting peacefully since the first time he'd seen her sprawled on the entryway floor. Her breathing was back to normal and her skin felt fine to his loving caress. Micah's thoughts returned to what Psyche termed Heller's. Apparently, it went back to the old Earth date of 1930 and left a confused and grieving path of hurting and despairing parents when their children suddenly lost all of their developmental gains. He imagined his Chamna a year older, suddenly losing her ability to communicate or play or laugh. Embarrassing accidents in the fields near the center of the village as she lost control of her bowels or bladder because she no longer retained the toilet training skills she was currently mastering. Sitting on the reading carpet in the school house ignoring the tale of mice and rabbits the schoolmaster was reading because she had become totally absorbed in pulling strings from the rug and wrapping them around and around and around her toes. No more would Chamna come rushing into his gardens to grab his hand and insist he come see the latest bug she had discovered. Micah shuddered, and then restrained himself, as he did not want to wake up his sleeping mate.
He felt the physical pull as he mentally dragged his thoughts back to the upcoming future only a week away. Once again, he cursed a blessing at the Queen and her only compassionate decision since she'd picked up the charter for Psyche. Unfortunately, with Heller's, mental retardation couldn't be commanded away. For so many of these children, mental retardation was the only result due to the inability for continued communication. Some of the children in the ward had been engaged in some exceptionally bizarre behavior. If a parent had been ignorant enough to request acute onset instead of insidious, the prognosis was even more dismal. A list of the clinical features streamed through his mind: loss of word use or comprehension; inability to maintain or learn new self help skills; disruption in motor skills; incapability for social interactions or play; loss of aptitude for making friends, understanding other's perspectives, or interpret non-spoken communications. Micah cocooned (see, not even a momentary startle reflex!) himself and Sanna deeper into the cushions' silky embrace. The list of linked features marched across his thoughts in a visual parade of Donaldson soldier ants; each ant holding a placard depicting an anti-social behavioral act: a little child smearing himself with his own fecal matter while a therapist tried to direct him to finger paints; a hellishly, beautiful waif banging her head against the bed frame over and over and over, blood from her broken nose spattering, splattering, scattering in drops and rays over the white marble flooring; two small, pallid figures seemingly taking turns hitting on another as the frustration grew over their game of checkers. The research psychologists believed it to be a disorder worse than Autism, which, in Micah's educated thinking, was pretty bad.
As Micah began his thought-stopping process to rid his mind of Heller's horrifying exhibitions in preparation for dinner with his family, Larue draped himself into the archway of the living room and did his best to blend into the curve's bright, rose-colored wash. Larue failed abysmally, yet Micah pretended he didn't see. Larue suffered from severe social anxiety, but he was an exceptional cook, so Micah had compassion for Larue's peculiarities when it came time to communicate with other people. Sanna started to stir and Micah whispered, loudly for Larue's benefit, "Dinner must be ready if the delicious aromas emanating from the kitchen area are to be believed." Out of his peripheral vision, Micah saw Larue flash the grimace that indicated a smile while he unfolded himself from the arch and disappeared into the kitchen.
Micah thought it a good thing Chamna was at Sanna's parent's home for this weekend. It would allow the two of them to attempt reaching a choice for Chamna, without the distraction of a healthy, beautiful, wonderful little person tugging at their hearts as they envisioned one horrifying disorder after another. He and Sanna arranged themselves into positions that allow eating as Larue snuck his way into the room with serving dishes heaped with enticing arrays of edibles. Doda had come back while Micah and Sanna adjusted their bodies to move forward the low-level candles so there would be no shadows under their dishes, bowls, or glasses. He saw Sanna ignoring Doda's work, while a small smile drifted across her face at Larue's antics. She was very careful, he noted, to make sure Larue couldn't see her display of humor. Micah rallied inside himself at Sanna's behavior.
Thank goodness, he, and Sanna only had her disorder to endure, for now. If all he and Chamna had to put up with were a never-ending dance of candles in the living area, and the occasional panic attack when wife-mother's day was disrupted, the three of them could get through anything. They would resolve the choice for Chamna, tomorrow, together—the way they did everything. They would never saddle their lovely child with some horrendous pathology like Heller's. They would probably pick a nice, simple little phobia. Just not the dark.
And all the while as Micah's thoughts flew, the candles burned, brightly.
~~~~~~~~~~~~~
A note to the reader:  This story is complete fantasy, but all of the psychological disorders illustrated within are based on current day research. Also, while fecal smearing is an associated feature of CDD, the therapist directing the child towards finger-paints is completely my own creation.
I did not include cites within the text, but will provide the references from whence they came. Should you desire text with cites, I can easily insert them for your; I felt, deeply, they would detract from reading this paper.
~~~~~~~~~~~~~
The following page shows the location of Psyche and its neighbor, the Coalsack.
~~~~~~~~~~~~~
References
American Psychiatric Association. (1999). Phobias. Retrieved from the internet 11/7/04 from
http://www.psych.org/public_info/phobias.cfm.
Autism Society of America, Oakland Chapter (2001). 299.10 Childhood disintegrative disorder. Retrieved from the internet 11/14/04 from
http://www.asaoakland.org/dsm_disintegrative.htm.
Dawson, G. (Ed.). (2000). What is childhood disintegrative disorder, how is it different from autism, and what is believed to be its cause? Journal of Autism and Developmental Disorders, Vol. 30(2), p. 177.
Kluger, J., Cray, D., Liston, B., & Plon, U. (2001). Fear not! Time, Vol. 157(13), pp. 52-61.
Malhotra, S. & Gupta, N. (1999). Childhood disintegrative disorder. Journal of Autism and Developmental Disorders, Vol. 29(6), pp. 491-498.
Malhotra, S. & Gupta, N. (2002). Childhood disintegrative disorder: Re-examination of the current concept. European Child & Adolescent Psychiatry, Vol. 11, pp. 108-114.
Mash, E. J. & Wolfe, D. A. (2005). Abnormal Child Psychology (3rd ed., pp. 186, 191-193, 215, & 310). Belmont, CA: Thomson Wadsworth.
Mouridsen, S. E. (2003). Childhood disintegrative disorder. Brain & Development, Vol. 25, pp 225-228.
Easter01

Moderator


Posts

:

826




Thanks

:

225




Total Awards

:

0



Suzanne,
My hubby and I have a particular fondness for science fiction, and so found this account of a rather bizarre colony world to be absolutely fascinating. From a realistic standpoint, of course, no colony world could survive in which the inhabitants were forced to assume a psychological disorder that interfered with the productivity necessary to transform a raw planet into a viable society.
By necessity, however, you had to follow your professor's directions, and so your fertile imagination created a culture whose ruler was more interested in conducting a social experiment than governing for the benefit of the settlers. I believe that the Queen herself was exhibiting sociopathic behavior, justifying cruelty in the name of scientific advancement, much as the infamous Nazi doctor Mengele in his experiments on concentration camp prisoners.
In all probability, one could write a lengthy paper just exploring all the implications of the dysfunctional society on Psyche. All in all, a brilliant exercise in imagination, and no wonder you were given an "A" by your instructor.
Joanne
szanne7000

Tech Guru


Posts

:

5795




Thanks

:

880




Awards

:

:D Thank you (and your husband), Joanne <3<3<3

When we were first given this assignment, the entire idea blossomed in my head. I asked my profession ahead of time if I could do it this way. She was hesitant but said she would consider it. So I turned in two versions - the one you see and one that included the cites inline. She and her TA never even looked at the second version, lol.

It is unusual in the extreme to be able to do an APA paper and not include the cites, lol.

I did have fun with it. It turned out to be an exercise in application of pathologies. Which was her point, lol.

I'm really glad you and your husband enjoyed the snippet of Psyche.
anidup

Administrator


Posts

:

5467




Thanks

:

3417




Awards

:

Szanne, I cannot think of better words than those used by Joanne!
A brilliant essay, well thought through and written.
I loved it!
szanne7000

Tech Guru


Posts

:

5795




Thanks

:

880




Awards

:

anidup

Administrator


Posts

:

5467




Thanks

:

3417




Awards

:

szanne7000

Tech Guru


Posts

:

5795




Thanks

:

880




Awards

:

I'm playing around with an empty build created by Beverly Hills Sims
(901 Bel Air Drive)
- I might write a short story about this home - we'll see :D
Easter01

Moderator


Posts

:

826




Thanks

:

225




Total Awards

:

0



Suzanne,
I love your idea. It sounds exciting.
Isn't it amazing what inspires us?
Easter01
Create an account or log in to leave a reply
You need to be a member in order to leave a reply.
Log in
Already have an account? No problem, log in here.
Log in
---
Permissions in this forum:
You
cannot
reply to topics in this forum