Hello!
Whats new?
TS4: Farmhouse Chic by Chicklet
TS4: Painting Recolors by Crissi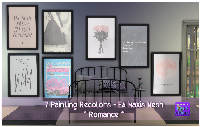 TS4: Bedding Recolors by Anidup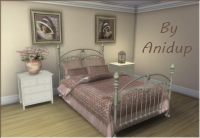 TS4: Wallpapers by Anidup
TS4: Recolors of EA Maxis Poster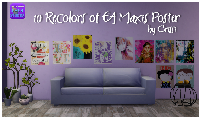 TS4: RC Lounge set by Oldbox

S4: Curtain RC by Oldbox

TS2-TS4: Suza loft plant by Anidup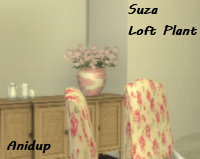 TS4: Sweet Tea Porch Set by Chicklet
TS4: Sunday Morning by Tilly
TS4: Candice Olson Bette Lounge conversion by Anidup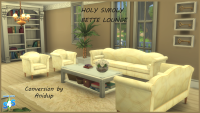 TS4: Blue shores sitting room by Chicklet
TS4: Jopes Little Deco Sign by Anidup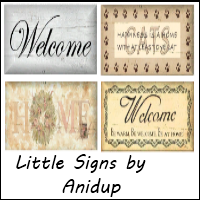 TS4: Laundry Days by Chicklet
TS4: Clairmont kitchen Island by Chicklet
TS4: Freestyle Living Room by Chicklet
TS2: Violetta by Maryann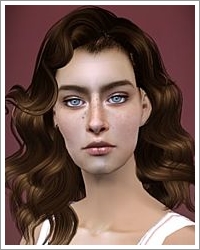 TS4: Wall Decals by Oldbox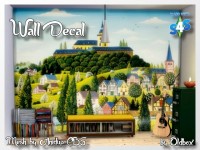 TS4: Recolor by Chicklet
TS4: Landmark paintings by Tilly
>
Top posting users this month
calisamba

Newbie


Posts

:

12




Thanks

:

0



Favorite Color: Orange

Favorite animal: Cat (though I love dogs too!)

Favorite book: I can't choose!  There are too many.  I'm a big reader.  I work in the right place - I'm a librarian though in a university setting.  Though we don't have a huge leisure reading section we stock a variety of genres. We also have Overdrive for digital books. I visit my local public library weekly. I enjoy many different genres though favorites are fantasy, mystery, and historical romance.

Favorite holiday: Any that allows time spent with family and friends.

Favorite music:  Like reading, I enjoy many different genres of music.  I mainly listen to pop music or light rock but also like country, jazz, alt-rock.  I even enjoy opera, some rap, hard rock, and other styles.

Favorite movie:  Another area where I have enjoyed many different movies both old and new.  I have watched a number of classics over the years as well as the latest features.  I'm not much of an action fan preferring more emotion-based, character-centered stories though some action films have had these.  I used to be a big horror fan but as I've grown older I actually prefer less gore and blood/guts.  Like books, I enjoy fantasy, historically-based films, romance, family-oriented films especially animated.

LOL...I'm not the best person to start this topic as in many cases I don't have a "favorite" since I'm very eclectic in my tastes and just like things I find I enjoy.  I like to learn something as well and connect with the material in some way.

Feel free to add more favorite categories.
Chicklet45368

Resident Artist


Posts

:

423




Thanks

:

254




Awards

:

Calisamba - I love your ideas for topics! So refreshing!

Ok let's see .......

Favorite:

Food - Mexican!

Color - it depends actually, I'm not a big bright color fan, I think it's not calming for me, so I prefer neutrals in my decor with a splash of accent color here and there, but in clothing .... black, lots of black ... or white

Season - I adore autumn! It's my most favorite season of all, I live in the mid-west, so I have 4 seasons, so when it starts to get a little chilly outside and you can see your breath, and hear the crunch of fallen leaves then come inside to a house that has scented candles burning and a big pot of chili simmering on the stove, I'm in heaven!!! I actually start praying for fall by August!

Holiday - All of them from Halloween, Thanksgiving, & Christmas. I love the seasonal changes each brings and I even like January and February to be cold and snowy. But come March I'm read for the snow to melt and warmer days to come.

Books - Like Calisamba, I have too many favorites to pick one, but my most favorite genre is romantic comedy, same in movies

TV - I don't watch any regular TV

Movie - was probably Invinceable with Mark Wahlberg. I do love me some Marky Mark!!!

Clothing Style - Jeans & hoodies with flip flops

Interior Design Style - Anything calming and zen, right now my fav is the farmhouse chic/industrial farmhouse with lots of white and natural textures made famous by Joanna Gaines

Animals - Dogs for sure! I'm not a big cat person, as I find they can be moody and disinterested sometimes .... where dogs? They love you unconditionally ..... and they are so happy and get so excited to see you when you walk in the door even if you only went outside long enough to take the trash out, jumping and hopping around, tail wagging 100 MPH ... "OMG! You're home! You're home *lick lick lick, wag wag, dance in a circle* "You're really home! I missed you soooooooooo much!" LOL
Create an account or log in to leave a reply
You need to be a member in order to leave a reply.
Log in
Already have an account? No problem, log in here.
Log in
---
Permissions in this forum:
You
cannot
reply to topics in this forum