Hello!
Whats new?
TS4: Girly wallpaper by TaTschu
TS4: Lavender bedroom by IvyRose
TS4: Bunnies and chicks paintings by Ivyrose
TS4: Painting collection by Anidup
TS4: In the garden - Ivy by Tilly
TS3: Beach house by Poppy100

TS4: Japanese House by Lovias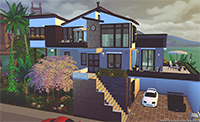 TS4: French dining curtains by Anidup
TS4: Shoreham Wharf by Tilly Tiger
TS4: Horse wood wall art by TaTschu
TS4: Spring rug collection by TaTschu
.servimg.com/u/f62/19/51/31/71/20033.jpg" /> TS4: Wood wall art by TaTschu
TS4: Vintage wall decals by TaTschu
TS4: Vivid dollshouse by Lovias
TS4: Spring wood signs by Chicklet
TS4: Hello spring paintings by Chicklet
TS4: Spring wall planter by Chicklet
TS4: Spring dining room by Chicklet
TS4: Conversion of Mataine bedroom by Anidup
TS4: Aqua by Lorry
TS4: Salthouse by Tilly Tiger
TS4: French dining by Anidup
TS4> Wood walls by TaTschu
TS4: Maison Lorraine by Lorry
Top posting users this month
Page 2 of 2 •

1, 2
AysaJaysa

Newbie


Posts

:

12




Thanks

:

1



Favorite Color: Purple
Favorite Season: Spring
Favorite Animal: Cat
Favorite Music: Anything acoustic with a great singer
Favorite Movie Genre: Fantasy (like LOTR)
Favorite TV Series: Stargate, Burn Notice, Psych, Seinfeld
Favorite Movie(s): LOTR and Star Wars (Originals)
Favorite Clothing: Comfy
Favorite Home Style: (In order because I can't decide)1.Victorian 2.Tudor 3.Farmhouse 4.Cape Cod 5.Mediterranean
Favorite Drink: Coffee
Favorite Fruit: Mango
Favorite Food: Pot Roast with rice
Favorite Ice Cream: Mint Chip
Favorite Musical Instrument: Cello
Favorite Hobbies: Video games, reading, writing fiction.
Mayetra

Moderator


Posts

:

214




Thanks

:

109



Favorite Color: Green
Favorite Season: Autumn
Favorite Animal: Cat
Favorite Book:  ::Cuddles all my books together:: I love them all, they are my precious. (Is there a plural for precious?)  I read science fiction  (Asimov, Herbert, Clarke, and others), Fantasy (Tolkien, Asprin, Salvatore, Rowling, etc), Urban Fantasy (Butcher, Briggs,etc), Cozy Mysteries, Historical Fiction, and the right romance novel - I want a good story not an overdone cliche.
Favorite Music: I like music - rock, country, pop, instrumental, musical theater, The Chipmonks
Favorite Movie Genres:  Fantasy, Science Fiction, Horror, and Superhero
Favorite TV Series: Stargate, Stargate SGU, Buffy, Lucifer, Burn Notice, Psych, Supernatural, DC CW Series, Marvel Netflix Series, The Magicians, TWD, American Horror Story, Xena, Doctor Who, Misfits (British Version), Leverage, Battlestar Galactica, Dark Matter, Star Trek (all including Discovery and excepting Enterprise), Riverdale, Sherlock, West Wing, Stranger Things, Warehouse 13. I'm still bitter about Firefly being cancelled. We won't discuss my K-Drama addiction.
Favorite Movie(s): Bright, Star Wars (originals) and #7, Halloween (Original), Alien & Aliens, Terminator T2 & Gynsis, The Martian, Stardust, Marvel Movie Series, Fried Green Tomatoes, Hocus Pocus, The Ref, Practical Magic,  
Favorite Clothing: T-Shirts, Jeans and Flip Flops.
Favorite Home Style: Modern, Craftsman, Cottage (Especially Fairytale), European, Mediterranean,
Favorite Drink: Cherry RC
Favorite Fruit: Tangerines
Favorite Food: Alaskan King Crab Legs, Reese's Peanut Butter Cups
Favorite Ice Cream: Chunky Monkey
Favorite Hobbies: Games: Tabletop RPG, Video Games, Board Games; reading; writing; coloring books; and artsy stuff.
Favorite Comics: Claremont's run of X-Men, Green Arrow, some Flash, Power Pack, Fathom (or anything done by Michael Turner), Blackest Night/Brightest Day, Flashpoint (Especially the Batman), TWD, and Firefly.
Favorite Comic Heroes: Storm (X-Men), Green Arrow, Flash (Barry Allen), Dex Starr (Red Lantern Corps) Loki (Male or Female)
Favorite RPG Class: Archer/Rogue
Favorite D&D Character: Drizzt Do'Urden
Favorite Web Series: Critical Role, The Guild, Tabletop, and Acquisitions Incorporated
Favorite Games: Skyrim, Morrowind, Sims 2, Minecraft (modded), Friday the 13th (Gun Media), and The Legend of Zelda Orcarina of Time.
Favorite Hogwarts House: Slytherin (Sorted by Pottermore and others into Slytherin repeatedly. My husband, the Gryffindork, was not surprised. My Hybrid House: Slytherclaw.  Don't hold it against me.  I'm the loyal, help you bury the body, type of Slytherin. I always felt that Rowling shouldn't have gone so black/white, good/evil with them in the books).
Favorite Doctor: Eleven. (I do love 10, 4 and 5).

Wow... I'm such a nerd.
Broomhilda

Moderator


Posts

:

5756




Thanks

:

2289




Awards

:

You have a whole story here May :rofl301:
I love it though and it's ok to be a Nerd..
Time for a Spring Siggi lol
Thank you so much Crissi, it's beautiful
~hugs and smiles my dear, dear BFF's~
I am so proud of all of you..
Friends call me Sam(F) or Broomie or Broomhilda
Page 2 of 2 •

1, 2
Create an account or log in to leave a reply
You need to be a member in order to leave a reply.
Log in
Already have an account? No problem, log in here.
Log in
---
Permissions in this forum:
You
cannot
reply to topics in this forum