Hello!
Whats new?
TS4: Unique wood walls by TaTschu
TS4: Ontario by Lovias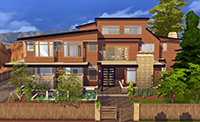 TS4: Wood Floor Tiles by Tilly
TS4: Stone Floors by Tilly
TS4: Paving Stone Floors by Tilly
TS4: Designer bathroom walls by TaTschu
TS4: Tahoes House by Lorry
TS3-TS4 House by Lorry
TS4: Under the stairs by Lorry
TS4: Ocean Breeze by Lorry
TS4: Fight like a girl by Chicklet
TS4: Cassandre's toy conversion by Anidup
TS4: Old Wood floors by TaTschu
TS4: Peyton by Lorry
TS4: Rug RC's by TaTschu
New story by Joanne Easter
TS3: Jack Daniels Set RC's by poppy100
TS4:Exo the war poster by iCedxLemonAde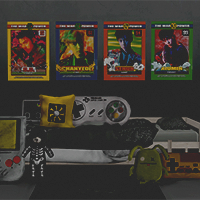 TS4: Autumn decor set by Chicklet45368
TS4: Ceiling Roses by Anidup
TS3: Painting RC's by Poppy100

TS4: Towel Cape RC by iCedxLemonAde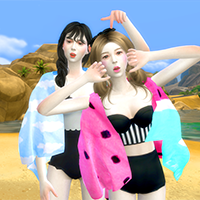 Top posting users this month
Granna23

Newbie


Posts

:

17




Thanks

:

12



Hi,
    Tomorrow is National Hug Your Cat Day!  (Here in US).  I have 2 fur babies which will get extra hugs tomorrow, although it's not like they don't get enough every other day...ha.  I kind of live down a long road with only one other house on it and somehow I end up with all kinds of strays on it.  Now there is a solid white cat with 3 of the cutest kittens, 2 white like her and one that looks like the cutest little panda bear.  They are so adorable, but I must find a home for them.  Oh how I wish people would be responsible and not let animals get put in these kind of situations.  If I am able to get them still enough, I will snap a picture and post for you to see them.  They are just so stinking cute!!!
   Jan
alouette

VIP Member


Posts

:

1240




Thanks

:

343



I'll try to hug my cats but I'm not sure how much they'll appreciate that.
White cats are beautiful! I've wanted to get my mother one, as she had one growing up and has always said she wanted another.
A L O U E T T E
szanne7000

Tech Guru


Posts

:

4441




Thanks

:

404




Awards

:

I have 3 - two black and white and one black :D
I'd love to see the kitties' picture (or several!)  

There are two threads here that also discuss furbabies - in case you'd like to post about your kitties (strays, or not, it sounds as if they've adopted you! <3) called Animal Family Members and The Fun Side of Your Pets and they may be found on the forum:
Here:  
http://cherryblossomsims.forumieren.com/t5006-animal-family-members
and
Here:  
http://cherryblossomsims.forumieren.com/t5158-the-fun-side-of-your-pet
Samantha61

Moderator


Posts

:

4814




Thanks

:

1302




Awards

:

Thank you Suzanne for posting those links..I never thought of that lol..
Thank you so much Crissi, it's beautiful
~hugs and smiles my dear, dear BFF's~
I am so proud of all of you..
Broomhilda's Sims2
Broomhilda's Sims2 DWJ
My Tumblr
sukitooley

Newbie


Posts

:

9




Thanks

:

5



I have three cats!  One is a polydactyl Manx, the other two are gray tabbies.  EXTRA hugs for them, too!  I would post pictures of them here, but I can't seem to figure out how. :(
szanne7000

Tech Guru


Posts

:

4441




Thanks

:

404




Awards

:

Suki - Here is some information to hopefully help answer your question :D
Lisa (Tilly)
are you able to send Suki a link to imgur (the picture hosting service)?
(Or another Moderator who has that information?)
Or you can use Photobucket or any other image hosting site you wish, as long as it allows for direct linking of images.
(I like imgur for this site because it is so simple. I signed up and that has literally been that :D )
Suki - if Lisa is able to, just register (it's free) to do so and once that is done, the rest is easy :D
Lisa, or another Moderator
- would you also please include the link to the guidelines on picture sizes?
I cannot remember where it is at the moment (I really need to sleep, heheheh).
~~~~~~~~~~~~~~~~~~~~~~~~~~~~~~~~~~~~~~~~~~~~~~~~~~~~~~~~~~~~~~~~~~~~~~~~~~~~~
To add a picture to these posts, all you do is drag pictures into the box that opens when you click the icon.
There is an upward pointing arrow sitting on a bar in the 4th group of icons from the left just above the text input box...
Then you click
Send all
, wait for it to upload, then click
Insert all
.  html code will be inserted into this text box.



You can insert more than one image at a time (I would not put in more than about 10 images/20ish mb).
If you want them in a specific order, drag them into the box one at a time.
You can then click the Preview button to see how everything looks.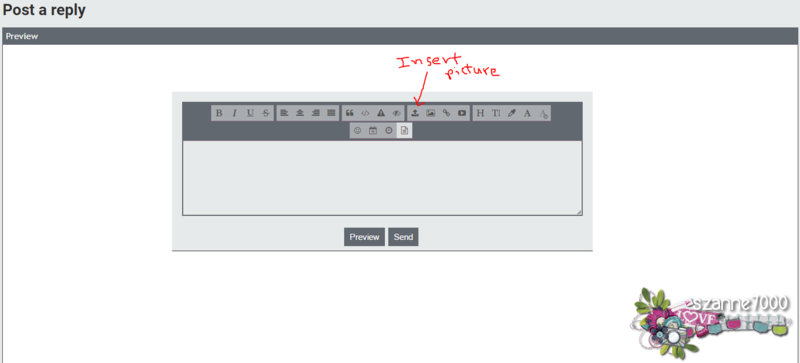 I generally do that and then go back and insert a blank line between images, as it makes them cleaner to look at.
It is html code, so think on/off switches - as in, there is a bracketed code at the beginning of a command and a bracketed code at the end of a command.
These codes start and stop whatever command is given inside the brackets. The slash inside the second bracketed command is the stop indicator.
For example, if you want to bold text:   [ b ] sample text [ / b ]    gives you this:
sample text
I added all the spaces inside the brackets so you could actually see the html codes.
I apologize if you already know this; however, I assume nothing :D
The codes for inserting images look similarly, except the information between codes for images consist
of url links for the image files that are created when the files are uploaded to the server.
~~~~~~~~~~~~~~~~~~~~~~~~~~~~~~~~~~~~~~~~~~~~~~~~~~~~~~~~~~~~~~~~~~~~~~~~~~~~~
I hope that helps and doesn't make things more confusing, Suki :D
If you need more clarification - please do ask... There are lots of willing people here <3
anidup

Administrator


Posts

:

4565




Thanks

:

2000




Awards

:

Here
the link to the forum rules, which include the image sizes.
Victorias102

Newbie


Posts

:

10




Thanks

:

1



jamirosado

Newbie


Posts

:

12




Thanks

:

0



sav_j1016

Newbie


Posts

:

11




Thanks

:

0



cant believe I missed cat day. I love cats so much. I am about to adopt a cat for the first time. Cant wait!!
Create an account or log in to leave a reply
You need to be a member in order to leave a reply.
Log in
Already have an account? No problem, log in here.
Log in
---
Permissions in this forum:
You
cannot
reply to topics in this forum