Hello!
Whats new?
TS4: Farmhouse Chic by Chicklet
TS4: Painting Recolors by Crissi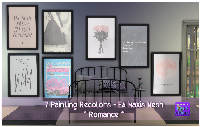 TS4: Bedding Recolors by Anidup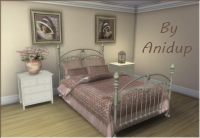 TS4: Wallpapers by Anidup
TS4: Recolors of EA Maxis Poster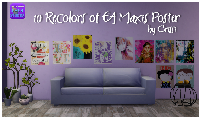 TS4: RC Lounge set by Oldbox

S4: Curtain RC by Oldbox

TS2-TS4: Suza loft plant by Anidup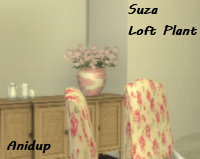 TS4: Sweet Tea Porch Set by Chicklet
TS4: Sunday Morning by Tilly
TS4: Candice Olson Bette Lounge conversion by Anidup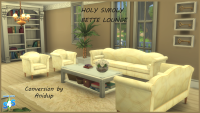 TS4: Blue shores sitting room by Chicklet
TS4: Jopes Little Deco Sign by Anidup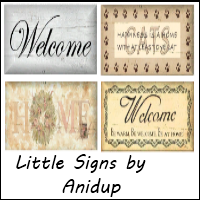 TS4: Laundry Days by Chicklet
TS4: Clairmont kitchen Island by Chicklet
TS4: Freestyle Living Room by Chicklet
TS2: Violetta by Maryann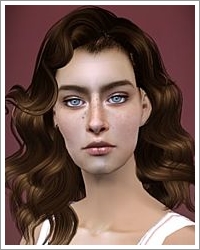 TS4: Wall Decals by Oldbox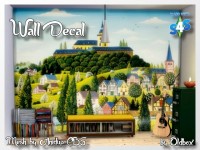 TS4: Recolor by Chicklet
TS4: Landmark paintings by Tilly
>
Top posting users this month
Chicklet45368

Resident Artist


Posts

:

423




Thanks

:

251




Awards

:

Ok, I've been living under a rock for years. I have never ever, not once, had a pregnant sim, a baby, or children in any game version I've ever played! LOL, It just never interested me that much, I was more into the owning a business or careers to worry about it.

So, I decided that this weekend I'd update my game to get toddlers and buy the Parenthood pack and actually play instead of creating.

But I have questions for all your experts .....

How does this work? Do I need to get my sim pregnant have the baby and it will age up to toddler?

Or do I just create a toddler in CAS as part of the family?

And, if it ages up from baby, will the toddler look like a combination of mom & dad both?

Thanks for any help!
anidup

Administrator


Posts

:

3252




Thanks

:

548




Awards

:

You can either "get" your sim lady pregnant, and she will carry the baby for three days until she goes into labour.
Then you can either have the baby at home (by clicking on the crib) or she can go to the hospital (if you have Get To Work).
The the baby stage is for about three days as well where after the baby grows into a toddler. The toddler stage is for 7 days I think, and then you have a child.

If you don't want her to get pregnant, you can adopt via the computer.

The genetics in the sims 4 is not that good. All babies look alike, and unless you change a little to the face and nose so do all the toddlers. But by tweaking in CAs (with the cheats activates and you type in cas.fulleditmode on). Then you can change the features a little.

Even with the drawback of the last part, it is really fun to have a toddler. I have not played at all since I got the Parenthood one installed, but also plan to do that this weekend.

I hope this helped.
Chicklet45368

Resident Artist


Posts

:

423




Thanks

:

251




Awards

:

Thanks perfect! TYSM! I think I'll do the whole pregnant thing since I've never experienced it and have her go to the hospital.

I watched a Youtube review of toddlers yesterday and they are soooo cute, I wanted to try it.

Then when I was searching for how to make over all my townies so my girl could fall in love with an attractive person, I came across a site that had absolutely gorgeous sims and she posted lots of pics (with poses, of course) of her couples and one had a little toddler that looked like dad, it was adorable!

So that just enhanced my need to want to try it even more. So today I've been on a D/L spree of toddler things in anticipation! LOL
anidup

Administrator


Posts

:

3252




Thanks

:

548




Awards

:

I am sure you will enjoy it a lot!
The toddlers are indeed very cute!
elynmccoy

Newbie


Posts

:

10




Thanks

:

0



The toddlers are super cute, I just wish they'd update the babies too so they're not basically inanimate objects.
anidup

Administrator


Posts

:

3252




Thanks

:

548




Awards

:

Yes, that would be great to be able to carry the baby around as well.
No good mother will leave their baby in a crib for that long!!!
Create an account or log in to leave a reply
You need to be a member in order to leave a reply.
Log in
Already have an account? No problem, log in here.
Log in
---
Permissions in this forum:
You
cannot
reply to topics in this forum