Hello!
Whats new?
TS4: Sydney by Lorry
TS4: Bowls for Matt by Anidup
TS4: 1 Bloom Terrace by Lorry
TS4: Royal wedding souvenirs by Ivy Rose
TS4: Painting collection by Anidup
TS4: Ayanna by Tilly Tiger
TS4: Provence painting collection by Anidup
TS4: Bradford way by Lorry
TS4: Girly wallpaper by TaTschu
TS4: Lavender bedroom by IvyRose
TS4: Bunnies and chicks paintings by Ivyrose
TS4: Painting collection by Anidup
TS4: In the garden - Ivy by Tilly
TS4: Japanese House by Lovias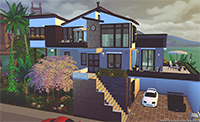 TS4: French dining curtains by Anidup
TS4: Shoreham Wharf by Tilly Tiger
Top posting users this month
szanne7000

Tech Guru


Posts

:

5795




Thanks

:

880




Awards

:

This mini tutorial is in partial response to this question by Rana:

~~~~~~~
My response is based on both having a member account (no ads) AND not having an account (ads, and not logging in).
As you stated, you can download an entire set of items (they come in zip files)
or
You can download items from the set individually as a
*.package
 file.
~~~~~~~
I'm going to use pictures to illustrate the process (for those that may be unfamiliar with TSR):
With an Account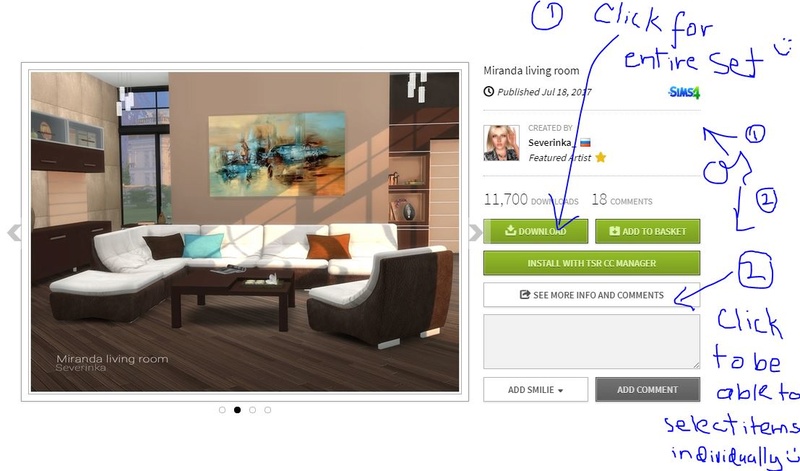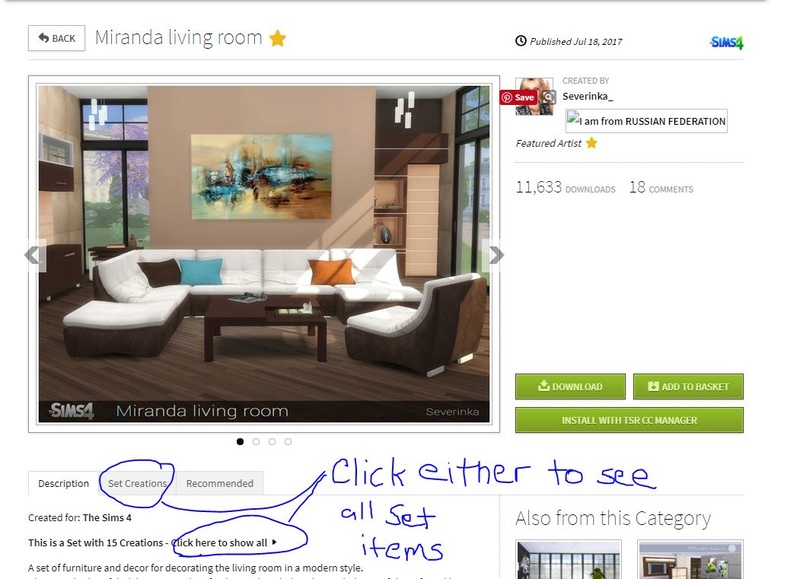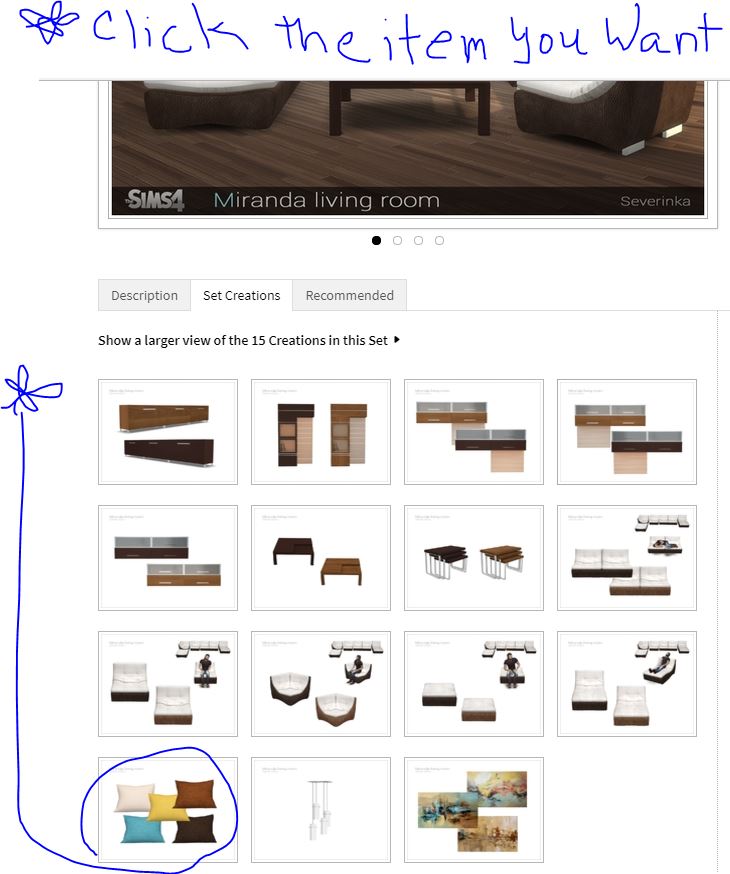 ~~~~~~~
Without an account: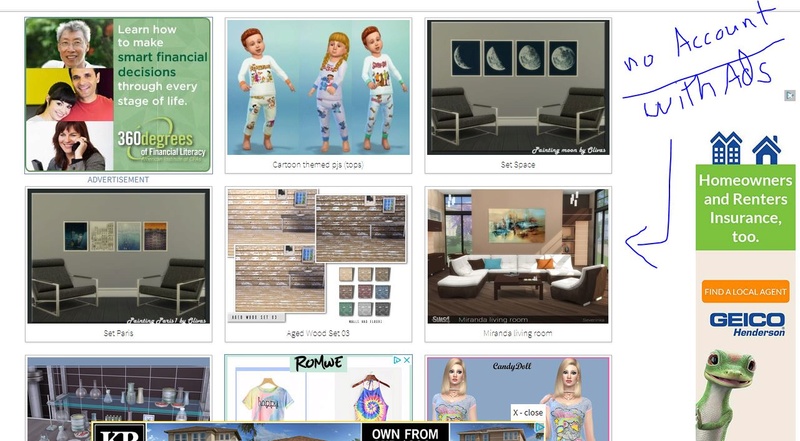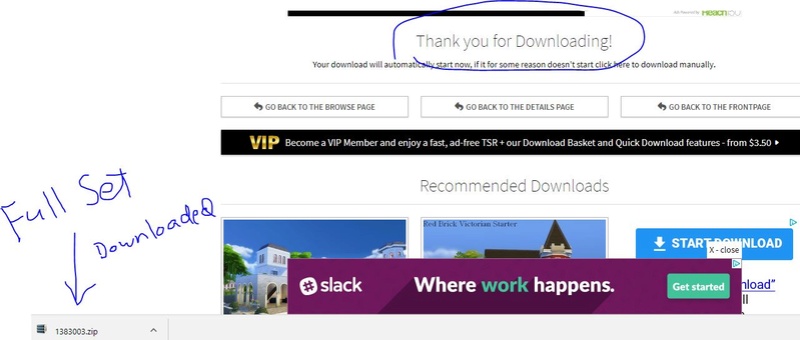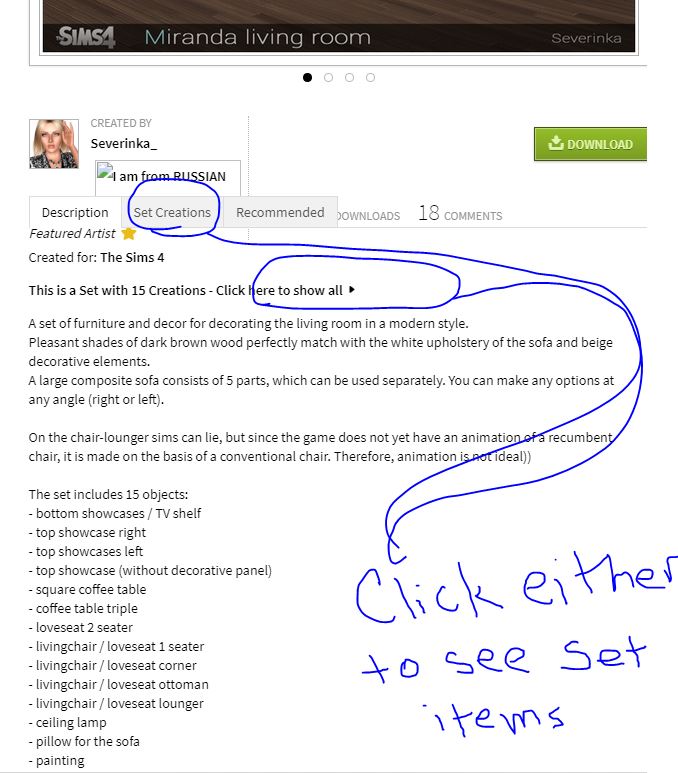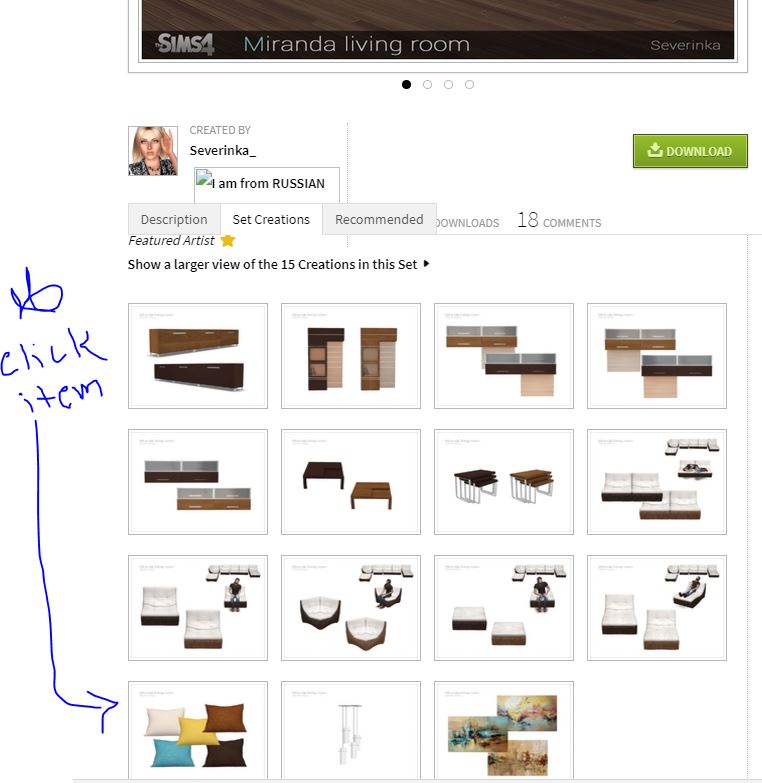 You will have another waiting screen (like when I downloaded the set)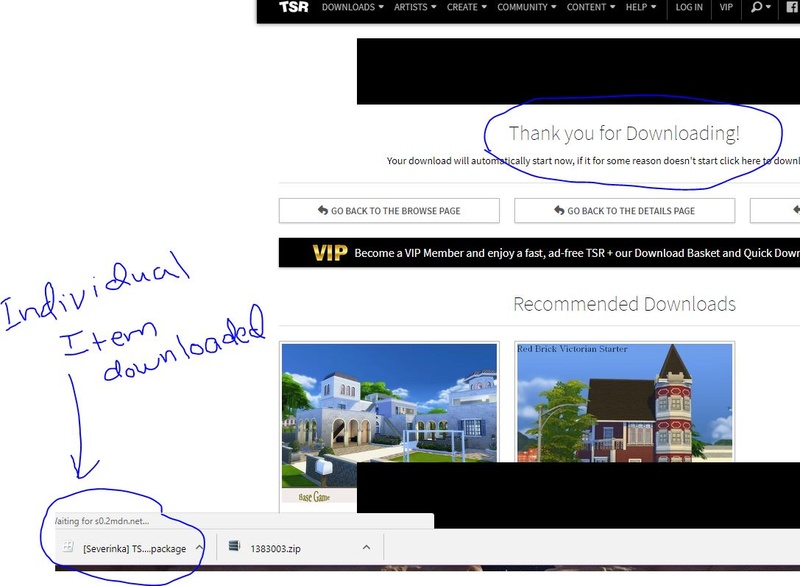 ~~~~~~~
I've included pictures showing what the downloads will look like in Chrome; I do not know how other browsers like Edge or Firefox will show you your downloaded files, but there should be something similar.
Also, the only difference for downloading between having an account and not having an account, is that when you have an account, you do not have a waiting period (and that waiting screen). The download will happen immediately.
So, downloading an entire set will result in a
*.zip
 file and downloading an individual item will result in a  
*.package
 file  on TSR.
~~~~~~~
You will need an application to extract files from archives - a  
*.zip
 file is one type of archive. There are also
*.rar
 archives and  
*.7z
 archives.
I use both WinRar and 7Zip to extract files.
If you want to make certain your extracted files work,
I would recommend 7Zip
for extracting all the above types of archive files.
It will extract  *.zip  and  *.rar  and *7z  archive files.
Link to 7Zip download page:  
7Zip
Link to WinRAR download page:  
WinRar
~~~~~~~
The TSR set and individual item that we're using as an example look like this after downloading: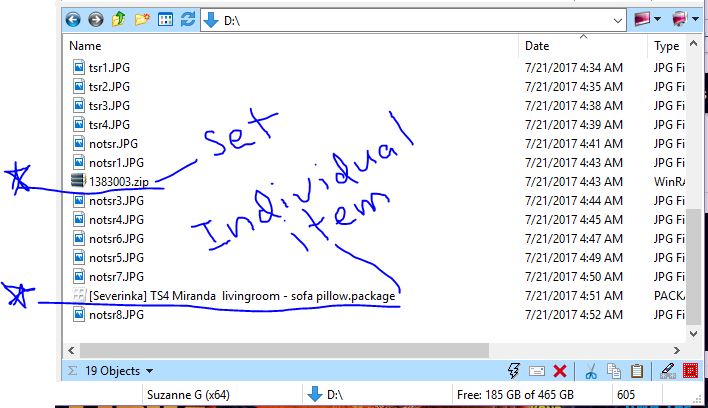 The set has these files inside the *.zip archive file: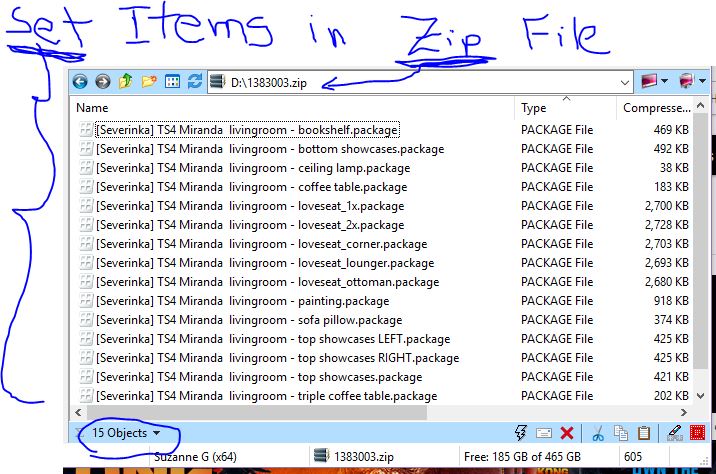 You will need to extract the *.package files from the *.zip archive file: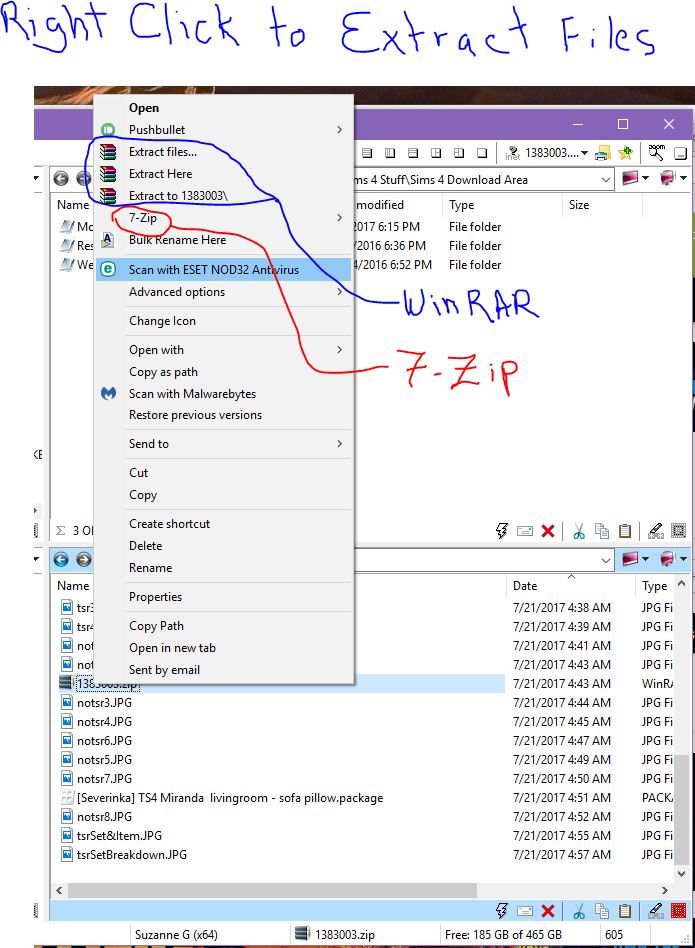 The application you use is your choice. Once the files are extracted from the set file, you will have individual package files.
Archived files MUST be extracted in order to use the files in your ts4 game.
~~~~~~~
Please let me know if you need further clarification on anything in this thread
AND/OR
If you would like a mini tutorial on how to use WinRAR or 7Zip. :D
darksyngr

Junior Member


Posts

:

209




Thanks

:

195



To add to this for those who do have pay accts with TSR...
You can take an additional step after "This is a set with __ creations - Click to view all". After you select the hyperlink another one will replace it with "Show larger view... of this set". If you select that it will allow a drop down of each individual item without having to load a whole new page. This way if you like 3 items in a set of 10 you can download from the drop-down rather going back and forth between pages.
The newest addition to the download options is "Install with TSR CC Manager". What that does is like how TS3 did it allowing a direct download to your mods folder. It creates a TSR folder in your mods folder so it never gets mixed up with your other mods.If it corrupts TSR will autofix when you download from them your next item. I found this out from personal experience when I accidentally bulk renamed my mods and did not remove the tsr folder. Speaking of, if you use this feature on TSR and bulk rename your files make sure to remove the tsr folder first.
Link to
Bulk Rename Utility Here
darksyngr

Junior Member


Posts

:

209




Thanks

:

195



I agree. I have learned so much from you ladies and still learning. I do my best to contribute in return :)
Create an account or log in to leave a reply
You need to be a member in order to leave a reply.
Log in
Already have an account? No problem, log in here.
Log in
---
Permissions in this forum:
You
cannot
reply to topics in this forum