Hello!
Whats new?
TS4: London Life by Tilly
TS4: Rug RC's by TaTschu
TS4: Wisteria RC's by Anidup
TS4: Wallpaper by TatSchu
TS4: Dining Set by Chicklet
TS4: House by Lorry
TS4: Wall art by Anidup
TS3: SIP Cabinets by Poppy

TS4: Living room by Chicklet
TS4: House by Lorry
TS4: Autumn crime house by Lovias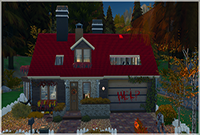 TS4: Autumn set by Anidup
TS3: Autumn set by Poppy

TS4: Floral pink wallpaper by TaTschu
TS2: Sam's peaceful place by Chicklet
TS4: Gold paintings by TaTschu
Autumn Bliss Downloads
TS4: Terracotta floors by Tilly
TS3: Autumn Spirit by Poppy100

TS4: Autumn wall quilts by Anidup
TS4: Barnham Broom by Tilly
TS4: Autumn leaves by Anidup
TS4: Canvas pictures by TaTschu
TS3: Fall signs by Poppy100

TS3: Fall Teaset by Poppy100

TS4: Fall House by Lorry
TS4: Autumn paintings by Chicklet
TS4: Autumn Entry by Chicklet
TS4: New Lot by Lorry
TS4 Floors by TaTschu
TS4: Unique wood walls by TaTschu
TS4: Ontario by Lovias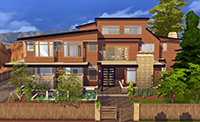 TS4: Wood Floor Tiles by Tilly
TS4: Stone Floors by Tilly
TS4: Paving Stone Floors by Tilly
Top posting users this month
Chicklet45368

Resident Artist


Posts

:

1538




Thanks

:

1555




Awards

:

OHhhh I don't even want to talk about cleaning out Mods folder and organizing it! I have been doing nothing but that non-stop since last weekend, every single night in my free time, literally get off work sit and organize, go to bed, go to work, rinse and repeat! LOL
And, Suzanne .... I went on such a major D/L spree last week and the week before, I ended up D/L'ing probably, well I don't even know how much, But I think with all my build items, walls & floors, and objects I was up to like 23GB now before I started cleaning stuff out.
So, I went into the game, a million times with only a few items in the game and sorted and deleted what I didn't want. It looked like someones piled to the rafter garage stuffed full of unwanted junk! LOL
I ended up deleting almost 8GB of stuff, so after I finally get it all cleaned out, I check that there are no duplicates, nothing is crashing the game when I searched, I'm golden, right?
No ....
Not so much!!!!
So after I was all done, I "tried" to load my game with all my CC unmerged first just to double check all was good before I merged it all. I waited, Mmmmm about 70 minutes and it still wasn't loaded yet. The load screen was just going and going and I finally just gave up.
Since I couldn't check it, I was like, screw it! And, I spent all of last night merging my CC and saving the folders of the creators who's stuff were in the merged packages so I could find them easily. I Load my game, which took about 25 minutes, and try to search ......
BLAM! Hi-Ho! Hi-Ho! Back to the desktop I go!
I am clueless as to what is causing it since I tested each time I loaded up the game when I was purging stuff.
So today I started going thru all my stuff again with S4S and deleting unwanted swatches to lower the file size and to delete more stuff I'll never use. Pretty darn boring and tedious and I'm only thru the F's! LOL
But, I have come across a LOT of crappy, crappy conversions tho! Do these people never test this stuff in the game or what?
Here's an example:
You can NOT tell me, this creator thought that looked ok!!!
For those of you who have never created or seen objects in Sims 4 Studio, let me explain what you're looking at. The large white rectangle with the big black blobbish spot is the shadow that goes underneath objects and the little squares with the black blobs are the shadows that go under the leg feet. Obviously they cloned a sofa and never rotated or moved the shadows to match the new sofa!!!
I kept the item because it's actually a nice set and I'll just fix it myself if I ever used it, but come on people!!! That shadow shows up in the game! And, this same creator had shadow planes (five of them to be exact), just floating in the air around the object they converted. Again, this shows up in the game, with a darkened circle! Retarded!
And don't even get me started on all the wrongly categorized objects! The majority of objects cloned from a plant was still checked as a plant rather than clutter, nobody categorized by rooms at all. I only categorized my kitchen stuff and food because there's just too much stuff to have to categorize it all!
And some people obviously have been converting online 3D meshes and not telling people because I had a table that was 111,000 polygons and another one with 43,000. I don't know if that's what caused me to crash and the game not want to load or what. It was fine when I tested it, but I was testing with only like 1GB of CC in the game.
I keep telling myself I'll be so thrilled once it's done so I can enjoy my things and decorate but it's not helping to make it go any faster tho! LOL
Ok, I'm going back to it, probably by next weekend I should be done
Samantha61

Moderator


Posts

:

4397




Thanks

:

1370




Awards

:

TJ..I figured this would be better placed here so you can get help better and everyone that needs to see it can..
I really hope you can find a solution to this problem..
Thank you so much Crissi, it's beautiful
~hugs and smiles my dear, dear BFF's~
I am so proud of all of you..
Broomhilda's Sims2
Broomhilda's Sims2 DWJ
My Tumblr
tantemir

Junior Member


Posts

:

31




Thanks

:

4



I think I downloaded that set from the picture too :) and than deleted it because I don't know how to fix these kind of things myself...
Chicklet45368

Resident Artist


Posts

:

1538




Thanks

:

1555




Awards

:

Thanks Sam, but I wasn't asking for help. I was just ranting about my week that's why I put it under Sims chatter. My game works fine, it's just I can't search when I'm in the game, that's a problem with a piece of CC conflicting not a technical issue that someone can fix.

But, of course if someone wants to come to my house and finish cleaning out my Mods folder! Then I can use all the help I can get! LOL
Thank you so much Crissi for my beautiful signature! *hugs*
Samantha61

Moderator


Posts

:

4397




Thanks

:

1370




Awards

:

I'm sorry TJ..lol..I don't want your Mods folder..it's way to big..lol
I misunderstood you I'm sorry..
Thank you so much Crissi, it's beautiful
~hugs and smiles my dear, dear BFF's~
I am so proud of all of you..
Broomhilda's Sims2
Broomhilda's Sims2 DWJ
My Tumblr
anidup

Administrator


Posts

:

4478




Thanks

:

2255




Awards

:

I am "happy" to read that you are being frustrated by the same thing I am TJ!
I can get soooo upset when some of the converters do not check their stuff in game. I agree, that sofa needs a lot of work to get it to look good.
And it really is not that hard to do!
I get equally frustrated to have a doll under a plant!!!! It can be fixed, but I really don't want to waste the little time I have to mesh and decorate to fix the objects. I do though because I want it to look good in my game.

I am about to start on my mods folder tonight.... I picked up quite a number of doubles. I will have to see which conversion is the best. If neither, I will put that on my to do list, and convert it for myself.
But listening to you actually makes my shoulders sag, two weeks you say!!! (I thought you were extremely quiet around here!! Now I know why).
But it needs to be done. I have found beautiful stuff that I would rather have in my game, so I would have to do this soon!
Chicklet45368

Resident Artist


Posts

:

1538




Thanks

:

1555




Awards

:

Anita - I didn't know that you could actually view and delete content with S4S. I just learned that! I knew you could open objects under "My Projects" and view them that way but you can't delete them that way.

What I am doing is putting each creator folder into my Mods folder for the game, and opening S4S, clicking MY CC and it will open that folder and you can open each item up and look at it, delete unwanted swatches, change flags and categories, or delete the object totally.

The only thing you can't do is view the actual texture if you wanted to change it. If that happens, because there's been a few items I just wanted a few more colors of, or I didn't like the bright colors on clutter, such as bathroom clutter, I just changed it real quick, deleted the thumbnail so it would show correctly in the game, and saved it. This way when I DO finally get a chance to actually play/decorate it'll be done.

But, I deleted painting swatches and rug swatches, bedding, anything I knew was not my style and I'd never use. And, If by chance I would ever need that bright, ugly, solar system patterned blanket for some reason, I'll just go re-download it! lmao

It has really cut down on my file sizes so I'm really happy about that, but I'm itching to decorate Lorry's fabulous houses!!!! LOL
Thank you so much Crissi for my beautiful signature! *hugs*
Freeasabird

Newbie


Posts

:

20




Thanks

:

0



You have my empathy Chicklet45368 , I too cleaned out my DL folder a few months ago and found massive Sims2/3 conversions that were slowing my game to a slow crawl. And monsters like the above sofa. Now I check suspect items with s4s before adding them and have caught some truly huge poly heavy objects. Not just conversions either. I don't merge because the objects cant be separated and deleted but I can see why it useful. I have 2.80gb in my download folder, and the truth is I didn't miss a single thing I deleted. I still have a few things to re-mesh but its much better than it was.
Good luck with the cleaning and playing :-)
Create an account or log in to leave a reply
You need to be a member in order to leave a reply.
Log in
Already have an account? No problem, log in here.
Log in
---
Permissions in this forum:
You
cannot
reply to topics in this forum