Hello!
Whats new?
TS4: Sydney by Lorry
TS4: Bowls for Matt by Anidup
TS4: 1 Bloom Terrace by Lorry
TS4: Royal wedding souvenirs by Ivy Rose
TS4: Painting collection by Anidup
TS4: Ayanna by Tilly Tiger
TS4: Provence painting collection by Anidup
TS4: Bradford way by Lorry
TS4: Girly wallpaper by TaTschu
TS4: Lavender bedroom by IvyRose
TS4: Bunnies and chicks paintings by Ivyrose
TS4: Painting collection by Anidup
TS4: In the garden - Ivy by Tilly
TS4: Japanese House by Lovias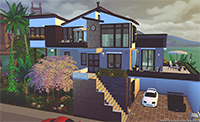 TS4: French dining curtains by Anidup
TS4: Shoreham Wharf by Tilly Tiger
Top posting users this month
Easter01

Moderator


Posts

:

922




Thanks

:

223




Total Awards

:

0



A Painter's Vision
by Joanne Easter
(c) 2008
The man driving the dusty Ford Explorer slowed his vehicle and eased to a halt beside an old wooden building in the empty town, long weathered to silver gray under the desert sun. He let the engine idle for a moment, his foot on the brake, and then shifted into park and turned the ignition off. He looked over at his eighteen year-old son, who was still steaming about being coerced along on this trip to the middle of nowhere.
"What do you see, Sean?" Brian Taylor asked his son.
"I see a bunch of old buildings that should have been burned down a hundred years ago. This place is dead, there's nothing here." Sean replied with icy disdain. Then he relented, and sighed. "Look, Dad, I know what you're trying to do. You brought me out here for a 'parental talk' about college. That's not the life I want. I'm not going to the Art Institute. I have my own plans, which DO NOT include burying myself in a bunch of books and crap." Sean opened the door to the Explorer and stepped out into the dust. He jammed his hands into the pockets of his jeans and strolled away, stopping to kick an old oil can out of the road.
Brian shook his head and looked up into the cloudless blue sky. His son had such a gift for art, yet was just going to cast it aside like a joke. He looked at the old weathered buildings, lining the single street on both sides, few over two stories in height. The whole town was a relic from the mining era, abandoned when the veins of lead ran out and people moved away to scratch out a living somewhere else. Sean was so wrong about this place. The town wasn't empty, wasn't dead. It was filled with history and alive with memories.
"Do you think he'll be able to see it, Brian?" came a familiar voice from a patch of shade beneath the balcony of the nearest building.
"I don't know, he's pretty stubborn," Brian said, stepping out of the vehicle and walking over to the porch. He climbed the few steps to join the old man sitting on a bench, leaning against the wall of the building.
The old man chuckled. "Comes by it honestly, doesn't he?" His wrinkled face was creased with a big grin. He looked about the same as when Brian had last seen him, years ago, as ageless as the hills that rose in the distance behind the town. His hands and clothing were spotted with dabs and blotches of color.
"So, Gramps, you still keeping yourself busy?" Brian asked, sitting down on the bench beside him. He pulled a handkerchief out of his pocket and dabbed at the sweat on his forehead. "And how is your lady? Finished with her yet?"
"Oh, she's just grand, Sonny, just grand," the old man beamed. "Come on upstairs and see for yourself."
Brian followed his grandfather through the open doorway, pushing at the sagging door to make just a bit more room. The single remaining hinge creaked loudly and then snapped, dropping the door onto the floor. A cloud of dust billowed out. The old wooden stairs protested loudly as they walked carefully up to the second floor of what was once a boarding house. At the first door on the left at the top of the stairs, the old man fished an ancient iron key out of his pocket and opened the door. They walked inside.
The walls were covered with paintings, most in oil, some in watercolor, all of scenes from the town and the surrounding countryside during the time when it was a prosperous inhabited place. There were landscapes in glowing colors, the desert painted by the setting sun, the hills and buttes starkly silhouetted. There were pictures of life on the street, of men in Stetson hats holding the reins of horses, at work and at play, of ladies in carriages, of laughing children with golden curls. There were portraits of stern-looking business men in bowler hats, old women in high collars with their hair pulled back, encircled by children. Paintings in various stages of completion leaned against the walls. On one side of the room were shelves covered with brushes and cans of paint and stacks of canvas. In the center of the room, placed just so to catch the morning light, was an easel on which rested a half-completed portrait.
"There she is," the old man said, touching the edge of the canvas lovingly, like a caress. Brian walked around and inspected the painting. It showed an elegant lady with laughing green eyes and chestnut brown hair spilling down onto her shoulders, dressed in a white blouse with puffed sleeves and a ribbon around her neck. Her lips were slightly parted as though she was just about to smile, or to speak, and Brian caught himself unconsciously smiling back at her. It captured the soul of the woman far better than any photograph.
It would be a master work when completed, but there was yet an empty space where her hands should be, folded in her lap.
"Still not finished, I see," Brian said.
"I just can't get the hands right," the old man said. "Your grandmother's hands were so delicate..." He sighed, and then picked up a brush and began to sketch in an outline of the hands, working with such concentration that he seemed to forget that Brian was at his side.
Brian watched him for a moment and then stepped over to the dirty window and looked out on the street.
On the opposite side, about six buildings down, he saw Sean exiting a one-story building - the sheriff's office, he recalled - and then go next door to the hotel, the tallest building in town at three stories high.
He felt the old man's presence at his side, looking out the window with him. He turned and saw that he was wiping a brush with a cloth, the smell of paint thinner strong in the enclosed space. Brian looked back at the painting, and saw that his grandfather had covered over his most recent effort with a new layer of white paint, ready to start again sometime soon.
"How long do you think it'll take before he sees it?" Brian asked the old man.
"Hard to say. Remind you of anyone you know?"
"I remember," Brian said quietly, watching his son squeeze through the boards that were nailed across the doors of the General Store.
Brian looked at Ben, "You know, he has more talent than I did at his age. Hell, he has more talent than I ever dreamed of having, he has the gift..." His voice tapered off as he thought about the years he struggled just to achieve a small success. His art gallery was finally doing well. Not as well as he had hoped, but he was able to make a living doing what he enjoyed most in life, painting western landscapes.
"Look, he's going into the old saloon," Ben said, bringing Brian's thoughts back as he saw the broken saloon door swing slightly.
Both men waited for Sean to come back out, each lost in their own thoughts.
Suddenly Sean burst out of the saloon and ran toward the Explorer. He yanked open the rear door of the vehicle and pulled out his paints and easel.
"He found it! He found it!" Brian said excitedly.
"It didn't take as long as it took you, now did it," the old man said, poking Brian in the chest with his paintbrush.
Brian looked at his grandfather and smiled, remembering the joy of the day he found his own painter's vision, the sense of things under the surface which only an artist can see.
Brian walked over to the door, to go down to his son. He stopped at the threshold, and turned back to look into the room. The old man was gone, as were the paintings on the walls and the portrait of the lady, his grandmother. In the corner of the room was a pile of old rags, and some pieces of a broken table, and some cans of long-dried paint. Everything was covered with a thick layer of dust, the steady accumulation of many years.
His grandfather had, in fact, finally gotten the hands right. The painting of his grandmother, that beautiful and elegant lady his grandfather had loved so much, had been hanging in his living room now for more than thirty years.
As he left the room, he heard the faint echo of a ghostly chuckle.
(c) 2008 Joanne Easter. All Rights Reserved.
Credits:

ghost town pic - from: pinterest.com/pimpinbiscuits/old-west-ghost-towns/

poker pic - bottom of page - from: Drawing Poker, American West, American Painters,
Westerns Art, West Saloon, Art Prints, Andy Thomas, Defaul Wwwcartelpokercomt, Wild West
Tell Me A Story Album
:  Here
anidup

Administrator


Posts

:

5347




Thanks

:

3295




Awards

:

I can read this story over and over and over, and every time it gives me goosebumps!
Very well written, Easter.
Create an account or log in to leave a reply
You need to be a member in order to leave a reply.
Log in
Already have an account? No problem, log in here.
Log in
---
Permissions in this forum:
You
cannot
reply to topics in this forum