Hello!
Whats new?
TS4: Sydney by Lorry
TS4: Bowls for Matt by Anidup
TS4: 1 Bloom Terrace by Lorry
TS4: Royal wedding souvenirs by Ivy Rose
TS4: Painting collection by Anidup
TS4: Ayanna by Tilly Tiger
TS4: Provence painting collection by Anidup
TS4: Bradford way by Lorry
TS4: Girly wallpaper by TaTschu
TS4: Lavender bedroom by IvyRose
TS4: Bunnies and chicks paintings by Ivyrose
TS4: Painting collection by Anidup
TS4: In the garden - Ivy by Tilly
TS4: Japanese House by Lovias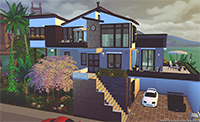 TS4: French dining curtains by Anidup
TS4: Shoreham Wharf by Tilly Tiger
Top posting users this month
anidup

Administrator


Posts

:

5475




Thanks

:

3405




Awards

:

The Historical Landgraab Family
Geoffrey Landgraab is the fourth generation of the Landgraab Dynasty.  He and his family lives in Oasis Springs. His great great grandfather was the founder of  quite a number of other towns.

Geoffrey Senior and his son, Geoffrey the second, built the Science Lab in Oasis Springs, which is currently still owned by the Landgraab family.  Close to the Laboratory are the hydro  plants, responsible for the production of electricity for not only Oasis Springs, but also six other cities.





Geoffrey the Fourth,  is the first son, who did not have an interest in science as a career. He was more interested in making the world a safer place, and enlisted in the Sim Secret Agency. If he was not the only child he would have been disowned by his father.   He has a good head for business, and is  still running the family businesses with an iron hand. He has even founded a few companies of his own.
When he met Nancy, he was in the seventh heaven. She was a sweet girl and he knew he was envied by many of the young men in Oasis Springs, and that made him love her even more. They had a spectacular wedding, and moved into the house his father had bought them as a wedding gift.

They were not married for very long, when Nancy told him that she was expecting their first child. He was overcome with joy, and even more so when they learnt that they are to have a little boy. Geoffrey was hoping for a big happy family and was extremely disappointed when his beautiful wife told him that she had absolutely no interest in having any more children. It did not matter how he pleaded, her mind was made up. She loved their son, Malcolm and told him that she was content with having only one child. Geoffrey was heartbroken, but he adored his son as well, and enjoyed every minute he could spend with his child.

Apart from having to accept the fact that his wife did not want another child, he also soon realised that her love for him has waned,and that she became cold and distant towards him. She loved to go shopping, loved to spend as much money as she could on stuff for the house, stuff that they did not really need, and very often stuff that he completely disliked. Her misuse of their family funds, led to many arguments between the two of them.

Even Malcolm's sweet smile turned into cruel laughter when he was able to play a nasty prank on his father, or his nanny or even other children whom he was allowed to play with. Geoffrey slowly realised that he married the devil, and that their child took after his mother in every way.
They grew apart from each other, and Geoffrey had to suffer many nasty and evil conversations with his family. He could not consider divorce..... it is one of the clauses of the founder Landgraab's will that whoever was to have a divorce, will forfeit all right to any family inheritance.  But he was slowly dying inside..... how can he leave his family heritage in the hands of his wife and the son they have created?
The final straw on the camel's back was when he realised his wife is leaving their home almost every night only to return in the early hours of the morning. She refused to inform him about what she was up to or even where she was going to.
Fortunately for him, he was in the secret service and had enough resources to enabled him to find out what she was up to. But nothing prepared him for what he was about to find.

A few years ago she nagged him to buy a petrol station situated at the outskirts of town. When he looked into the feasibility of it being a sound investment, he realised that it is on the road to nowhere, and initially refused to give her the money to buy the place. But after she made his life a living hell, he gave in and bought her the place.  Shortly after, she told him over breakfast that the petrol station was indeed a waste of money, and that she intended to close it down.

So, when he  started to look into what she was up to all hours of the night, he discovered that she is going to the very station almost every night, and that she would meet up with a man whom he did not know. Proper investigation into the guy revealed that he is Jacques Villareal from San Myshuno, and that he was a well known  gangster in the city.

Geoffrey was now finding himself with his back to the wall. The Landgraab family can be accused of many things, but being thugs was not one of them. He knew he had to do something, but was not sure that he could confront Nancy yet about what he found out.
He decided to wait until he could gather enough informaton about what she was up to..... he just hoped that her illegal actions would not cross his professional path anytime soon.....




 
Last edited by anidup on Mon Jan 01, 2018 11:50 am; edited 1 time in total
anidup

Administrator


Posts

:

5475




Thanks

:

3405




Awards

:

Here are some of the before pictures of the house they live in.
And here is a picture of the "abandoned" petrol station, where Nancy and her gang are planning lots of devious actions.
Chicklet45368

Resident Artist


Posts

:

1933




Thanks

:

2328




Awards

:

Ohhhhh what an excited story! I do hope that Mr Landgraab catches her before it's too late and that his family approves of him tossing her to the curb and getting a divorce once they find out about her devious actions with the gangsters and don't dis-inherit him!

I like that house too! I like the layout of it, the rooms are nice and big, it's open but each room appears to have a distinct function! Is that one you built or is that actually their house in the game? (see I never play and never really even look around at the houses that came with the game)
anidup

Administrator


Posts

:

5475




Thanks

:

3405




Awards

:

That is the EA house. They already lived in it. I just dollied up the exterior a bit, and added a wall to the huge open living room. I will add the pictures soon, but to my album due to the amount of pics I took.
And then it will be back to the drawing boards, since I decorated the house with the Christmas Season in mind, and with that done, also have to clean out my folders and rid myself of all the unnecessary cc.

But, I like that you like the story. I actually took what was there already, and just put a narration to it. Poor Geoffrey is really a good guy, with the best of intentions. But he is also unfortunately quite weak. I allow them to do their own thing to a certain extent, and he is really taking all the crap!!
The other two are rude! I don't know how I am going to play with Malcolm, since all the guy wants to do is fight with the whole neighbourhood. I think I would introduce him to really nice lady friends, and see if any of them can change him a bit.

But, I like the plot, and am looking forward to see what they will all be up to. I also discovered the Landgraab apartment in San Myshuno, and will allow Geoffrey some time away from the family there. And yay... also a new house to re-decorate. (Never did an apartment before).
I also never played with any of the EA families, they just died off with time. So this time plan on keeping some of them alive.
Broomhilda

Moderator


Posts

:

6112




Thanks

:

2623




Awards

:

Wow girl..I love this story line..and that's a beautiful home.I am going to have to keep on reading this one lol..can't wait to see what happens next
Time for a Spring Siggi lol
Thank you so much Crissi, it's beautiful
~hugs and smiles my dear, dear BFF's~
I am so proud of all of you..
Friends call me Sam(F) or Broomie or Broomhilda
anidup

Administrator


Posts

:

5475




Thanks

:

3405




Awards

:

You can view pictures of the interior of the house
here.
I will soon add more of the exterior as well.
Gast

Guest

Anita .. I think I will be very fond of this story,
it is always a pleasure to see how you are working with the sims
I will certainly continue to follow it 
anidup

Administrator


Posts

:

5475




Thanks

:

3405




Awards

:

Ah thank you so much Poppy!
I hope you will like the rest too. I love creating stories around the sims I play with.
Lorry

Resident Artist


Posts

:

3737




Thanks

:

2073



I thought I would check out the house first.....but I will have to come back I see
I am excited to see what you do with this rather large lot. I have never seen it before
anidup

Administrator


Posts

:

5475




Thanks

:

3405




Awards

:

Lorry, I never played this house or the family, because I did not actually like either! LOL. But I decided to try out the EA families, and I was surprised when I started out with this house, that I actually liked redecorating it.
I have added pics in my Portfolio for the interior of the house.

Bea, I am so happy that you like the story.... I just elaborated a little on what EA has given us with this family.
Create an account or log in to leave a reply
You need to be a member in order to leave a reply.
Log in
Already have an account? No problem, log in here.
Log in
---
Permissions in this forum:
You
cannot
reply to topics in this forum