Hello!
Whats new?
TS4: Boho rugs by TaTschu
TS4: Train station by Lovias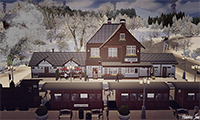 TS3: Deco walls by Poppy100
TS4: A touch of gold wallpaper by TaTschu
TS3: Windyridge house by Mireluk
TS4: Pink loft by Velvetkiss
TS4: Sovereign wallpaper by Tatschu
TS4: Linen wall set by Velvetkiss
TS4: Floral wallpaper by TaTschu
TS3: Paintings by Poppy100

TS3: Westover Avenue by Mireluk
TS3: Window and door deco by Poppy100
TS4: Jenba apartments by Lorry
TS4:Terri flower collection by Anidup
TS4: Fant house by Ivyrose
TS4: Prada lightbox by Ivyrose
TS3: Paintings by Poppy100
TS3: Kitchen tray by Poppy100
TS4: Carnegie wall set by Velvertkiss
Top posting users this month
skanning

Junior Member


Posts

:

73




Thanks

:

45



I haven't been in S2 for awhile.  I tried to pull it up thru Origin...nothing.  I tried from the desktop....nothing.  I noticed the update and took that....still nothing.  I pulled the downloads file at every try...still nothing rather or not the downloads were in there.  I tried repair game...still nothing.  A while back, the game informed me that I needed to d/l mansions and gardens...I thought that should've been included in the ultimate but what the heck.  I did that and the game in documents listed m&g..as well as ultimate.  Nevertheless, the ultimate continued to work.  Now I notice that the NAME on the file for m&g has changed (and I didn't do anything).  I'd blame all of this on the update but the game wouldn't load either with or without downloads BEFORE I even took the update.  If I try to uninstall and reinstall...is there anything I should know about?  I'll restart the computer before I reupload the game...we've set my computer to dump any caches it holds at turn-off.  
szanne7000

Tech Guru


Posts

:

4790




Thanks

:

566




Awards

:

Hi Darlene :D
I found this quote on a forum
Here
Did you delete the groups.cache and accessory.cache files? If not, then try that - it might solve your problem.

Deleting the neighborhoodmanager.package has also been known to help, but I wouldn't try that, unless everything else came up negative.
There is more information there, but the consensus is that this fixes most "won't start/load" issues.
There is also a link to this tutorial from
Woodensimolian Tutorial on ts2 game fixes
that is referenced in this same thread. It looks comprehensive and worth a read.
If you are uncertain about deleting Cache Files - here is the simswiki on it for ts2:
Delete ts2 Cache Files
~~~
Just in case you ultimately need these:
Patches for TS2
Here are two links that have ALL the patches for ts2 - one is archived and the other is from Patches Scrolls:
Archive - The Sims 2 EA
Patches Scrolls - The Sims 2
This has all the games listed AND includes CD vs DVD vs Digital Download options for several of the releases.
Patches Scrolls has two pages of search results, so the original base game is on the second page. When you click on a game version, you will see a tab for patches - click that and if there is a patch, it will be listed.
~~~
Please let me know if this resolves your issue - if it doesn't, I'll look deeper into it :D
skanning

Junior Member


Posts

:

73




Thanks

:

45



Shouldn't any updates/patches for S2 be included in the Ultimate?  But then, where "should" applies I should know that it doesn't seem to apply to EA :-(
Now...the good news
Deleting groups.cache and accessory.cache did it
I was bracing for a siege that never arrived!  I cannot thank you enough.  I really never expected it to be so simple...nor did I ever expect (stupidly) any problems with S2 on the assumption that since EA wasn't sending anymore patch or update bombs, I'd never have a problem.  I should've known better.
Thank you, again...and again
Samantha61

Moderator


Posts

:

4941




Thanks

:

1658




Awards

:

Darlene...I always delete the Groups cache and accessory cache files every time before going into the game..I didn't see this post before sorry..I would have told you that..they do have something that you can download at MTS about these it's a cc or Mod thing and I think it will delete them for you..the next time I run into it I will put it on here..
Thank you so much Crissi, it's beautiful
~hugs and smiles my dear, dear BFF's~
I am so proud of all of you..
Broomhilda's Sims2
Broomhilda's Sims2 DWJ
My Tumblr
Friends call me Sam(F) or Broomy or Broomhilda
skanning

Junior Member


Posts

:

73




Thanks

:

45



@Sam...
Aha...you guys have been keeping secrets  lol  I've said this before on tumblr (I'm ClaimingTheFifth over there) that your site is always friendly and very kind.  That's not the usual lesson we all learn from the internet.  You all are simply extremely exceptional!!
Freeasabird

Junior Member


Posts

:

34




Thanks

:

4



Hi I also have to delete the Groups.cache file before starting the game. I think its because the game is not good at handling downloads folders than are bigger than 2gb. I have tried every clean up for this game but if that file is over 6mb I have to delete and restart. Compressing does help a bit but the best thing is to search your DLs and remove any you can live without that are excessive. :-)
Create an account or log in to leave a reply
You need to be a member in order to leave a reply.
Log in
Already have an account? No problem, log in here.
Log in
---
Permissions in this forum:
You
cannot
reply to topics in this forum