Hello!
Whats new?
TS4: Sydney by Lorry
TS4: Bowls for Matt by Anidup
TS4: 1 Bloom Terrace by Lorry
TS4: Royal wedding souvenirs by Ivy Rose
TS4: Painting collection by Anidup
TS4: Ayanna by Tilly Tiger
TS4: Provence painting collection by Anidup
TS4: Bradford way by Lorry
TS4: Girly wallpaper by TaTschu
TS4: Lavender bedroom by IvyRose
TS4: Bunnies and chicks paintings by Ivyrose
TS4: Painting collection by Anidup
TS4: In the garden - Ivy by Tilly
TS4: Japanese House by Lovias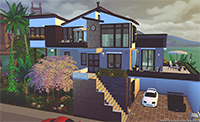 TS4: French dining curtains by Anidup
TS4: Shoreham Wharf by Tilly Tiger
Top posting users this month
Broomhilda

Moderator


Posts

:

6114




Thanks

:

2623




Awards

:

I just sent a message to our Guru Tech..she hasn't been on much lately been moving..so I hope she sees my message or someone else knows how to fix this..sorry I can't help..I only play Sims2..and welcome to Bloom..
Time for a Spring Siggi lol
Thank you so much Crissi, it's beautiful
~hugs and smiles my dear, dear BFF's~
I am so proud of all of you..
Friends call me Sam(F) or Broomie or Broomhilda
szanne7000

Tech Guru


Posts

:

5792




Thanks

:

874




Awards

:

Hi Mcarchus - some basic questions while I Google your issue...

1 - is your game up to date?
2 - have you done a repair?
3 - do you have cc in your game?
4 - if you do have cc, have you run the mod conflict detector (originally)?
5 - have you batch fixed all your cc with sims4studio (latest version)?

Please also let me know your operating system, graphics card information, amount of ram, etc...

...I'm going to go look and see what I can find :D
mcarchus

Junior Member


Posts

:

281




Thanks

:

61



Thanks Broomhilda.

szanne7000:

Answer to your questions:  All yes.
Operating System:  I know its not my operating system, mine's pretty spec'd out.
Windows 10 Pro 64-Bit 
CPU Type is Intel(R) Core(TM) i7-3770 CPU @ 3.40GHz
24.0 GB RAM
Graphics Card is Radeon (TM) RX 470 Graphics (updated drivers and software)

OH, and by the way, it only does those black lines at certain zooms and angles.
szanne7000

Tech Guru


Posts

:

5792




Thanks

:

874




Awards

:

Hi again :D

Okay... your system is definitely top-notch, lol!

Are you running the game 64bit?

What mode are you using? (Fullscreen, Windowed Fullscreen, Laptop Mode)?

Is Post Processing on or off?

um... what graphic settings are you using? Ultra?

I've had this intermittently in ts4 ever since it came out...

...it is definitely an angle thing and it is annoying, especially with my replacement moon in the sky.

I have a Radeon card, as well... have you made any changes to it?

I also use ReShade, but I can still get some interesting shader glitches at different perspectives.

Sam (Broomhilda) is going to give you my skype information and I'm in Pacific Time Zone here in Las Vegas... so feel free to contact me (you can also pm me with your info... but post here as I'm not paying attention to email notifications right now).

I did not find anything specific to this issue (I've never found any on several searches over the years)...

...I guess I'm not inputting the correct terms, LOL!
mcarchus

Junior Member


Posts

:

281




Thanks

:

61



Sorry Szanne, I didn't see that you posted.

Fullscreen
Post Processing, I believe it is on, but I have to look for sure.
Ultra - of course :D
Radeon Card, nope no changes
ReShade - not sure what that is. :/

I did a search for it too, but I'm sure I'm not using the correct terms either.
szanne7000

Tech Guru


Posts

:

5792




Thanks

:

874




Awards

:

No worries, Matt...

...I'm just checking in on the Help Area this evening.

...real life has had me on a bit of a roller coaster for the past month and I'm also doing DOTY, so I've been behind on notifications, lol.

Is this still being an issue for you?

I've (still) not found anything on it out in the forums.
Create an account or log in to leave a reply
You need to be a member in order to leave a reply.
Log in
Already have an account? No problem, log in here.
Log in
---
Permissions in this forum:
You
cannot
reply to topics in this forum